The Nashville Predators extend point streak to 15 and clinched bid to Playoffs!
Predators clinch playoff spot with 4-2 win over Avalanche. Nashville sets its record with 14-0-1 run.

DENVER  — The Preds are in!
The Nashville Predators didn't break out the bubbly or anything rowdy like that after becoming the first NHL team to clinch a playoff spot this season.
"Business as usual," defenseman Ryan Ellis said of the low-key celebration that included some pizza. "Back to work."
With their win against Colorado, the predators are first in going into the Stanley Cup Playoffs and Monday night's win against the Sabres extends the point streak with the Pred's win, 4-0.
Pekka Rinne earned another shutout with 35 saves.
In addition, The Predators only need fewer than 10 more points in their final 11 games to top the franchise record.
Nashville is coming in hot to the playoffs. They have 106 points as of Monday night and continue to stay on top being chased by Tampa Bay who is second overall in the league. The streaking Predators are 13-0-1 in their last 14 games and haven't lost in regulation since Feb. 17 against Detroit.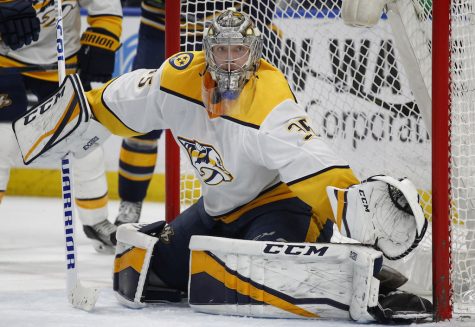 Clinching Game against the Avalanche
"The guys knew with a win tonight we would clinch and I think they fought hard for it," coach Peter Laviolette said. "I really liked our game tonight."
Starting goalie Pekka Rinne was given the night off after helping Nashville to a win Thursday at Arizona.
MacKinnon nearly tied the game late in the third period, but his shot hit off the shoulder of Saros.
Nashville weathered two penalties by P.K. Subban in the final period. Colorado pulled Varlamov in the final two minutes and it led to a game-sealing goal by Forsberg into an empty net with 1:09 remaining.
Landeskog gave the Avalanche a 2-1 lead in the second, but Forsberg tied it three minutes later. Sissons put the Predators up for good when his shot clanged off the crossbar and dropped into the net.
The Predators have at least one point in a franchise-best 14 consecutive road games. Sissons scored in the first period by sending in a shot off Varlamov's shoulder. "You have to be happy with our effort," Colorado coach Jared Bednar said. Laviolette felt the same way, and took a measure of pride in becoming the first team to clinch. Now, about that muted celebration. "There's no champagne in there," he said. "We're moving on."
Extending the Western Conference Lead Over Las Vegas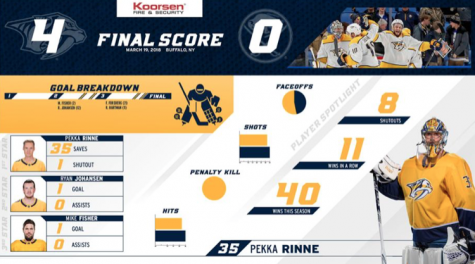 Mike Fisher and Ryan Johansen scored goals 4:34 apart in the second period, and Filip Forsberg and Ryan Hartman sealed the victory by scoring in the final four minutes improving the Nashville Predators point streak to 14-0-1 in their past 15 games
The Preds also extended their team-best road winning streak to nine straight. They haven't lost in regulation since a 3-1 defeat to Detroit at home on Feb. 17.; And they improved to 12-0-3 in their past 15 road games since a 3-0 loss at Vegas on Jan. 2.
Rinne won his 11th straight to match his personal best in a stretch in which he's allowed just 18 goals.
The shutout was the 51st of his 12-year career and third in nine games.
And Rinne also improved to 40-9-4 in becoming the NHL's seventh goalie to win 40 games in a season three or more times.
Looking Forward to Thursday's Game.
Predators Host Toronto Maple Leafs 
NOTES:
Rinne joined a list of three-time 40-game winners led by former New Jersey goalie Martin Broduer, who reached the milestone eight times.
Washington's Braden Holtby is the only other active goalie to win 40 games three times.
The other three-time 40-game-winners were Terry Sawchuk, Jacques Plante, Mikka Kiprusoff and Evgeni Nabokov. … Sabres RW Kyle Okposo returned after missing three games with a concussion. … With 10 games left, the Predators inched closer to matching franchise records for most wins (51) and points (110) set in 2006-07.