Northwestern Edges Kentucky in a wild finish at the Franklin American Music City Bowl
Kentucky goes for two and the win but falls short. Stephen Johnson runs it in from 9 yards out to put Kentucky down by one late, but the Wildcats fail on the two-point conversion as they fall to Northwestern in the Music City Bowl.
NASHVILLE, Tenn. — The Kentucky Wildcats football team rallied from a 10-point deficit to get within a point of tying the game in the fourth quarter with the No. 20 Northwestern Wildcats  but failed on a two-point conversion with 37 seconds left in the game.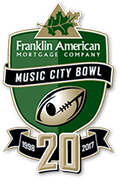 The 2017 Franklin American Music City Bowl game will be remembered for its frenzied rallied Kentucky comeback, notable injuries and even a couple of ejections at Nissan Stadium on Friday in Nashville, Tennessee.
Northwestern posted 442 yards of total offense compared to Kentucky's 338 yards. Northwestern dominated in the run game, posting 333 yards on the ground, while Kentucky only gained 65. In his last game as a Wildcat, Justin Jackson ran for 157 yards and two touchdowns as Northwestern (10-3) finished off back-to-back bowl wins in consecutive years for the first time in program history.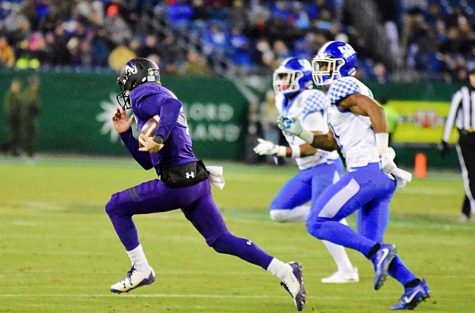 In addition to Jackson's 157 rushing yards, redshirt first year Jeremy Larkin busted out for a career-high 112 yards on the ground, while quarterback Matt Alviti scooted for 54.
Kentucky (7-6) trailed 24-14 with 7:49 remaining in the fourth quarter. A 10 play, 43 yard drive set up a 48-yard field goal from Austin McGinnis to cut the lead to 24-17 when the comeback began.
Kentucky's defense would rise and the Northwestern Wildcats from Evanston, Illinois on the following drive on a fourth-and-one from the Kentucky 39 yard line, giving UK the ball in good field position with 2:31 remaining.
Firing up the Kentucky fans in blue, the Wildcats drove down the field, and quarterback Stephen Johnson scored on a nine-yard rush to cut the lead to 24-23 with just 37 seconds left.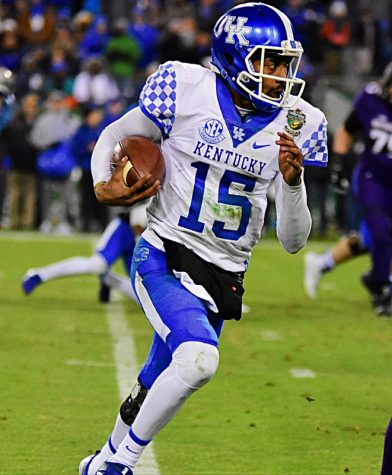 Next came the gutsy move to go for two instead of squaring up for an overtime game.
Johnson's pass on the conversion attempt was broken up. Northwestern then recovered UK's pooch kick, sealing the victory.
Both starting quarterbacks left in the first half with injuries. Kentucky's Stephen Johnson was knocked out of the game on multiple occasions but kept coming back. Johnson connected on 19 of his 36 passes for 257 yards. He also rushed six times for 17 yards and a pair of touchdowns
Kentucky also lost running back Benny Snell Jr. to an ejection for contact with an official early in the second quarter, and Northwestern lost leading tackler and linebacker Paddy Fisher before halftime when he was ejected for targeting.
"We just lost a heartbreaker by inches," Kentucky Head Coach Stoops said.
Northwestern Head Coach Fitzgerald echoed Stoops sentiments when he tried to describe the last minute of the game. "I'm not sure words can describe that game," Fitzgerald said. "Wow. What a great job by our young men. …Go for the win," Fitzgerald said of Stoop's decision.
With quarterback Clayton Thorson knocked out early in the second with an injured right knee , Northwestern outran Kentucky 333-65. Safety Kyle Quiero provided the winning margin taking Northwestern's second interception 26 yards for a TD with 7:49 left.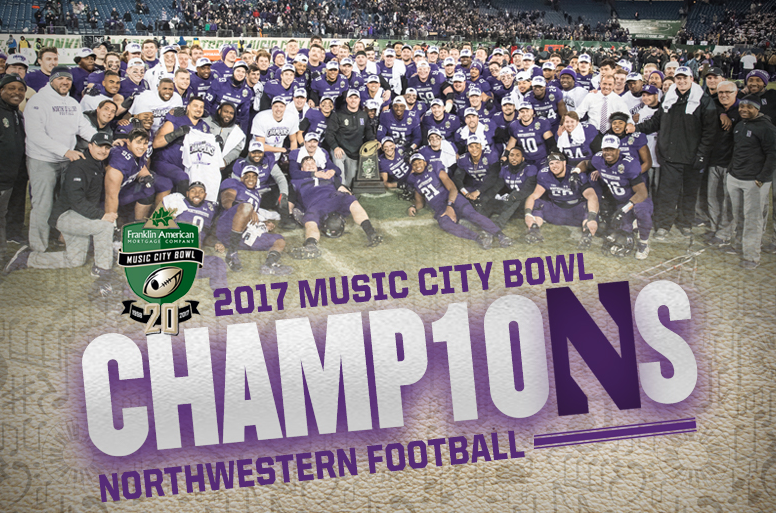 TAKEAWAYS
Northwestern: Losing Jackson won't be easy. Jackson went over the century mark for the 27th time in his career and moved into 10th in NCAA history in career rushing yards with a 14-yard carry in the second quarter.He finished with 5,440 yards. But Jeremy Larkin is a redshirt freshman who ran for 112 yards, and he will be back in 2018. Thorson already planned to return for his senior season too.
Kentucky: Snell, who came in leading the SEC in rushing TDs, capped the opening drive of the game with a 3-yard TD that was his 19th this season and 32nd of his career. Both are school records, and he'll be back for his junior season.