Anime showcase- Lookism
What is anime? Anime refers to a specific style of cartoon produced or inspired by Japanese animation. Think of it this way: all anime shows are cartoons, but not all cartoons are anime.
In a society that favors good looks, a high school outcast leads a double life switching between his two bodies that are polar opposites in appearance. After enduring years of abuse from his peers, Park Hyeong-seok moves to a different neighborhood to start a new life. Big changes are coming for him.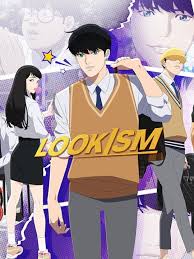 This anime is tailored to viewers that enjoy the slice of life or drama genres of anime and are usually a little lighter on the viewers.
you can watch Lookism on Netflix and it only has 8 episodes, so it won't take up a lot of your time and feel too stretched out.
"
I was sitting in my room alone on New Year's Eve browsing for something to watch and clicked on lookism. This show is a 10/10 honestly. You can connect on an emotional level a lot of the characters and feel sad, angry, and joy during certain scenes. It really portrays every teenage boy dream of magically become super attractive and not having to worry about social status or things like that."
— Barry Allen
This is definitely a great anime to check if you haven't been able to find anything recently or are looking for something easy to watch.