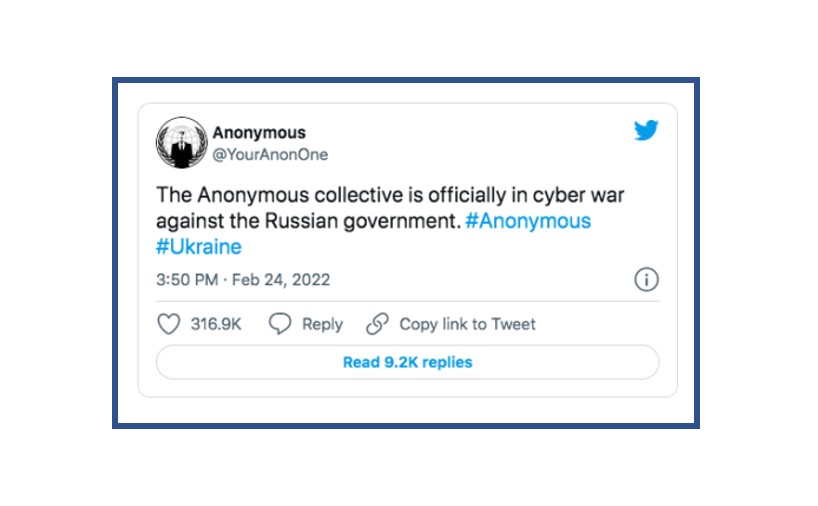 Anonymous the hacker collective declares cyberwar on Russia
Behind Enemy lines: Stories of Everyday Ukrainians at work to thwart Putin's War
Editor's Note: The Hillsboro Globe is highlighting how ordinary citizens have chosen to fight Putin.  From IT specialists who have turned to paramilitary hacking to farmers who use stealth to steal military weapons to fight the war. It is our goal to provide articles that add to the hourly news reports published by Associated Press and other news outlets.

CNN

The cyber collective criminal organization known as Anonymous has claimed credit for hacking the Russian Ministry of Defence database and is believed to have hacked multiple state TV channels to show pro-Ukraine content.

Just over three weeks ago, a popular social media account on Twitter named "Anonymous" declared the group was waging a "cyberwar" against Russia because Russia invaded the neighboring country, Ukraine.

The Twitter account has 7.9 million followers, with some 500,000 gained since Russia's invasion of Ukraine.  The hacktivist group has claimed responsibility for disabling prominent Russian government, news, and corporate websites. They have also claimed to have leaked data from Russian entities like Roskomnadzor,  the federal agency responsible for censoring Russian media. With the invasion, Russia soon banned journalists from reporting any anti-Russia news and has declared that journalists who violate this new law will be jailed up to 15 years in prison.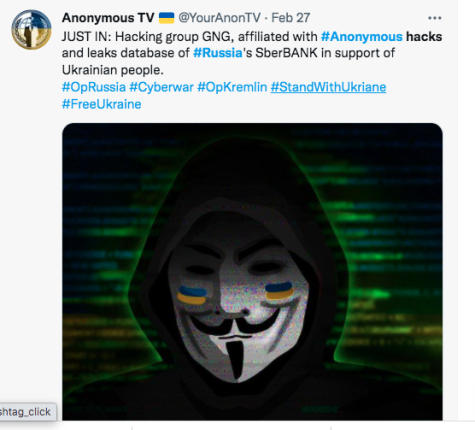 Russia's digital development and communications ministry said in a statement on Thursday it is "recording unprecedented attacks" on government websites and state-run news outlets amid Russia's invasion in Ukraine, The Washington Post reported.
"We are recording unprecedented attacks on the websites of government authorities," the Russian ministry said, according to the newspaper. "If their capacity at peak times reached 500 GB earlier, it is now up to 1 TB. That is, two to three times more powerful than the most serious incidents of this type previously recorded."
The Hill reports "the Russian ministry said traffic from outside of the country was being filtered, but it did not go into specifics about how this was being done."
Not long after the Russian invasion began, adverts encouraging Russian citizens to protest began appearing on social media platforms Twitter and TikTok and on Russian state-run media outlet Tass, which was also hacked.
Russia launched its attack in Ukraine, on February 24, 2022, and has been widely condemned internationally and prompted more than 3 million people to flee Ukraine to Poland, Slovenia, and Romania.
Russia's Emergency Situations Ministry has been hacked this week by an advert of a phone number that Russian soldiers could call if they wanted to leave the military replacing a hotline number previously listed on the site, The WashingtonPost reported.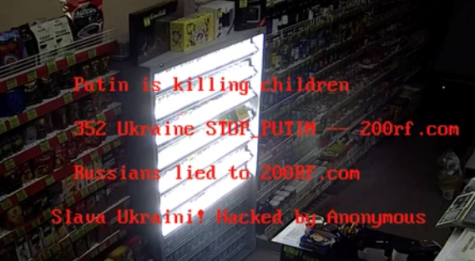 The publications VICE, Fortune, Forbes, and The Guardian are all also reporting Anonymous is waging cyber war on the Russian government and state media. VICE reports Anonymous has infiltrated security cameras behind enemy lines. They report hackers claiming affiliation with the hacking collective Anonymous have taken dozens of CCTV cameras seemingly located inside Russia and displayed the message "Putin is killing children" and other messages over them.
The hackers have also created a website containing live feeds of these security cameras called "Behind Enemy Lines." stated Joseph Cox of Vice in his article "Hackers provide Livestream of Dozens of Camera Inside Russia" published March 17, 2022.
Is what Anonymous is posting on Twitter true?
When Jeremy Fowler, a partner for the cyber security firm, Security Discovery, was asked about the legitimacy of such claims, he stated "I would mark that as true if I were a fact-checker," said Fowler. "My partner at Security Discovery, Bob Diachenko, actually captured a state news live feed from a website and filmed the screen, so we were able to validate that they had hacked at least one live feed [with] a pro-Ukrainian message in Russian."
To read more about this topic:
Vice Magazine:  Russian State Media Hacked to Show Casualty Numbers for Russian Soldiers in Ukraine War
The Hill: The Russian ministry says it's 'recording unprecedented attacks' on government websites