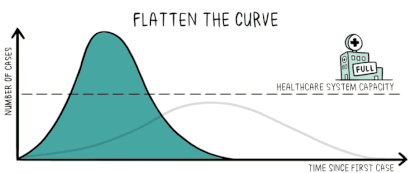 A Take on Covid-19 (Quarantine Edition)
What is the Corona Virus?
The Corona Virus, formally named Covid-19, is a virus currently affecting the US population, as well as the rest of the world. There is now at least one case per state and the symptoms can be compared to that of the flu.
As the infected number rises everyday, there are precautions being set in place throughout the world.
Social Distancing
A big part of slowing the spread of the virus is social distancing. This means being in quarantine but leaving for necessary items such as food or health emergency. It also means staying at least 6 feet apart from other individuals.
However, a common misconception is that you have to stay inside. This is not the case and studies have shown that going outside, can help ones mental state.
In Tennessee, Governor Bill Lee issued a statewide 'Safer At Home' order. This urges individuals to stay home, or in a quarantined space, for at least 2 weeks. The goal being to flatten the curve and slow down Tennessee's Covid-19 cases.
In the image above, the effects of social distancing can be shown by slowing the spread of Covid-19.
What does this mean for Metro Schools?
As you may have heard, Governor Bill Lee announced public school closures through April 24th. This is in hopes that all student and faculty will remain at home to slow the spreading of the virus. He also asked all state workers to continue working from home during this time.
Now as far as school goes on a district level, there is not much known about what is going to happening. School board members are currently discussing possible plans but nothing has been decided yet.
However, amidst the confusion and cancelation of schools, graduation will remain. Whether it's pushed back or held in a different form, our c/o 2020 seniors will graduate.
My Take
This is a confusing time for all but I've found getting in a routine can be helpful. This time off of school can be beneficially used by picking up new hobbies and spending time outdoors (6 feet of course).
Whether you watch documentaries or read a book, keeping your brain working is super important. Also make sure to check in with your teachers. They miss you and want to hear how you're doing!
The Hillsboro Globe will continue to update its page when more information on Covid-19 and Metro Schools is released. Contact Hillsboro Globe at [email protected] with any questions.