Burro Nation Weekly Sports Wrap Up
WBB Hillsboro vs Cane Ridge Game Recap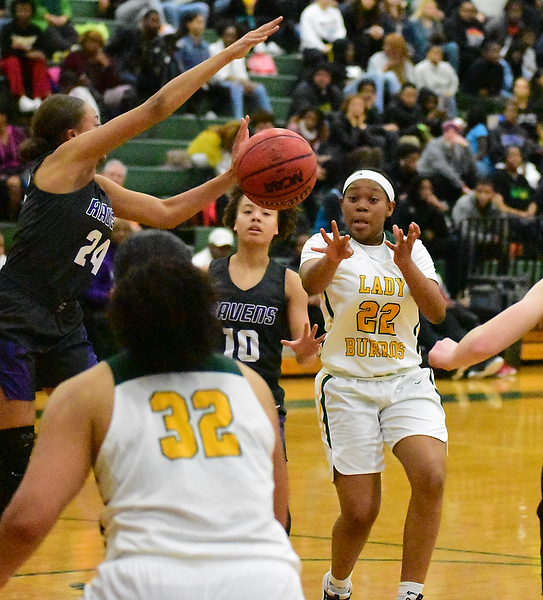 On Friday night, the Hillsboro High School varsity girls' basketball team received an extra sweet Valentine's Day gift in the form of a 54-50 senior night win over the District 12 AAA rival, the Lady Ravens of Cane Ridge High School.
With this thrilling victory, Hillsboro clinched their second consecutive district title for the regular season. The Lady Burros  compiled a perfect 14-0 district record and a 19-8 overall record. This title also insures that the team will advance to the 6 AAA Regional tournament to be held next week at Overton High School.
The girls' dominance this season becomes even more impressive when you take into account how young the Lady Burros are. The 2019-2020 roster consists of almost exclusively freshmen and sophomores. Shockingly, there are no juniors on the team and forward/center Trechelle Burch is the only senior. Burt's senior night was nearly perfect missing only one fee throw as accumulating 7 assists and 9 rebounds.
Head coach Cherish Stringfield was impressed by Burch's performance in the last regular season game of her three-year varsity career. Following the win on Friday, Coach Stringfield said that, "[Trechelle] played well tonight despite not putting up many points. I liked her aggressiveness and attitude on defense. It's good to see her getting honored on senior night.".
Leading up to the game on Friday night, few could have expected that freshman guard Kamora Lockett would be the key to defeating the Lady Ravens. Lockett has been a role-player throughout the season, but stepped up to a new level against Cane Ridge making the most out of her opportunity. She had a marvelous all-around game, recording 16 points, 9 rebounds, 7 assists, 2 steals, and was named the MaxPreps Player of the Game.
Freshman phenom Cori Allen had an off-game by her lofty standards, shooting just 4-15 from the floor, but still managed to score 15 points due to her perfect shooting from the free throw line. Two young freshmen leading the girls to victory in their biggest regular season game of the year perfectly encapsulates Hillsboro's season to this point.
As a reward for being district champs, the Lady Burros will be the 1 seed in the upcoming district playoffs which enables the to get a two-game bye and will not play semi-final game until Saturday evening at 4:00.
Coach Stringfield is confident in her team's ability to make a postseason run despite their youth; saying on Friday that, "The key to us doing well in the postseason is defense. If we can get stops, I like our chances going forward.". Riding on a freight train of momentum and oozing with talent, there is no doubt that the Lady Burros have the potential to go all the way this year.
Updated Bracket: