Iranians shift protests against Unites States to Pro-Regime Iranian government after downing of Ukraine plane
Iranian protesters on the streets of Tehran are shifting their anger from the U.S. to their own leaders as a result of the accidental take down of the Ukrainian jet on January 8th. The citizens of Iran are upset about the incompetence of the Iranian leaders due to the fact that the plane was taken down by their military. 
The protests, encouraged by Iranian government officials, began taking place in late January over a U.S. drone strike that killed Gen. Qassem Soleimani on January 3rd, who was considered the second most powerful figure in Iran.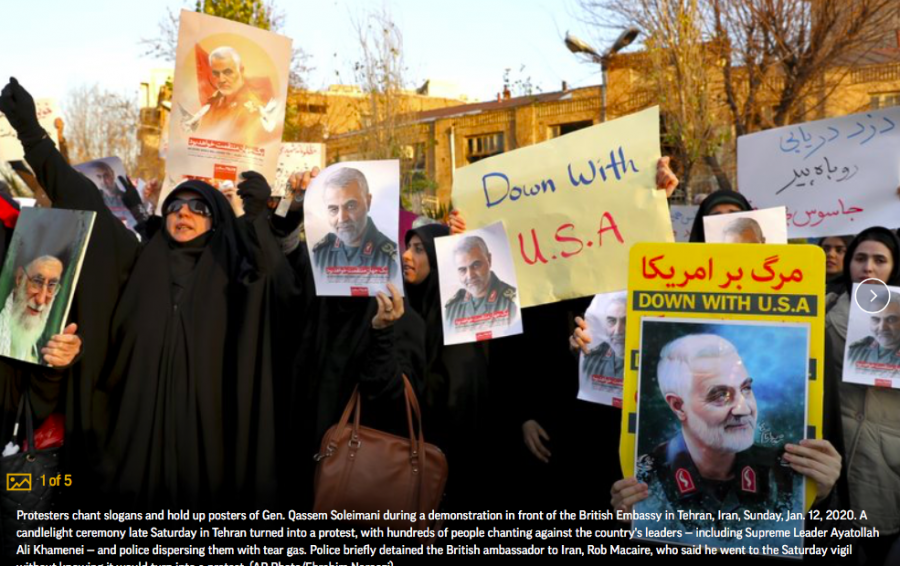 This action taken by the president of the United States was done without congress being formally notified that an action that could lead to war. The assassination of Soleimani forced Iran to respond with military action that eventually would cause the death of 176 Ukrainians who were on board a flight from Iran to Ukraine.
 Five days later, Iran responded with a missile attack on two U.S. military bases in Iraq, leaving no survivors. Hours after the attack, a Ukrainian jet containing mostly Iranian citizens was accidentally shot down by Iranian forces in response to the drone strike killing all 176 passengers on board. Critics of both the United States and Iran blame these deaths on the escalated military action.
Once the Revolutionary Guard admitted to the government mistakenly shooting down the plane, Iranian citizens gathered on the streets of Tehran, outraged at the incompetence of their leaders.
Had the Iranian government continued to lieto its people or failed to make any statement, the consequences for their actions that led to so many deaths might have been dire.  Since public gatherings are only legal if they are pro-regime, authorities immediately responded with force against the protesters. A move that was condemned by the United States State Department.
Ali Rabiei, a government spokesman in Iran claimed that the civilian officials didn't find out that the plane had been shot down by the Revolutionary Guard, who is under the Supreme Leader Ayatollah Ali Khamenei, until Friday. 
"The point is that we did not lie," Rabiei said. He continued to accuse the U.S. for "spreading the shadow of war over Iran."
Iranian government officials have started to receive plenty of judgement from well-known artists and public figures.
Taraneh Alidoosti, a famous Iranian actress, posted a picture of a solid black square on instagram with the caption, "We are not citizens. We are hostages. Millions of Hostages."
Senate moves to limit Trump on military force against Iran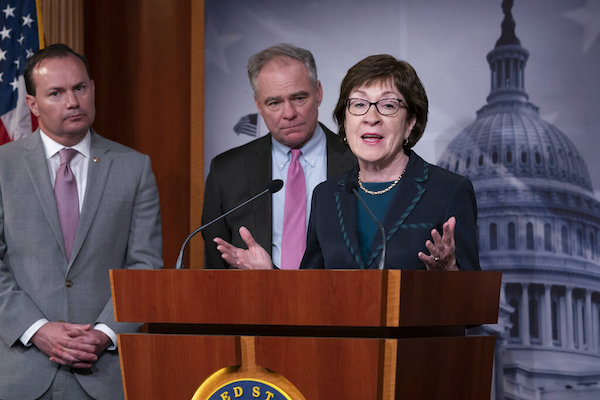 AP Report – The Senate approved a bipartisan measure aimed at limiting President Donald Trump's authority to launch military operations against Iran, with eight Republicans joining Democrats in a post-impeachment bid to constrain the White House.
This bipartisan vote was Senate's first major vote since acquitting Trump on impeachment charges in early February. Trump is expected to veto the war powers resolution if it reaches his desk, warning that if his "hands were tied, Iran would have a field day.'"
Sen. Tim Kaine, D-Va., the author of the resolution, stated President Trump must win approval from Congress before engaging in further military action against Iran. The resolution, which passed 55-45, was not about President Trump or even the presidency, but instead was an important reassertion of congressional power to declare war.
While President Trump and other presidents "must always have the ability to defend the United States from imminent attack, the executive power to initiate war stops there," Kaine said. "An offensive war requires a congressional debate and vote."
The Senate vote continues a pattern in which Republican senators have shown a willingness to challenge Trump on foreign policy, a sharp departure from their strong support during impeachment and on domestic matters. Congress moved to impose restrictions on U.S. involvement with the Saudi-led war in Yemen last year after U.S.-based journalist Jamal Khashoggi was killed in a gruesome murder at Saudi Arabia's consulate in Turkey.
The bipartisan vote was a rare exertion of authority from Congress, the first since passage of the War Powers Act of 1973. And Trump promptly vetoed it.
Sen. Susan Collins, R-Maine, a co-sponsor, called the resolution "much needed and long overdue." In recent decades, "Congress has too often abdicated its constitutional responsibility on authorizing the sustained use of military force," she said.
Senate Majority Leader Mitch McConnell, R-Ky., and many other Republicans opposed the resolution, saying it would send the wrong message to U.S. allies. "Just as we have successfully sent Iran this strong signal of our strength and resolve (by killing that country's top general), a blunt and clumsy war powers resolution would tie our own hands," McConnell said.
The three senators seeking the Democratic nomination for president — Amy Klobuchar of Minnesota, Bernie Sanders of Vermont and Elizabeth Warren of Massachusetts — all returned to the Capitol from campaigning and backed the war powers resolution.
Besides Collins and Lee, Republicans joining Democrats were Sens. Lamar Alexander of Tennessee, Bill Cassidy of Louisiana, Jerry Moran of Kansas, Lisa Murkowski of Alaska, Rand Paul of Kentucky and Todd Young of Indiana.