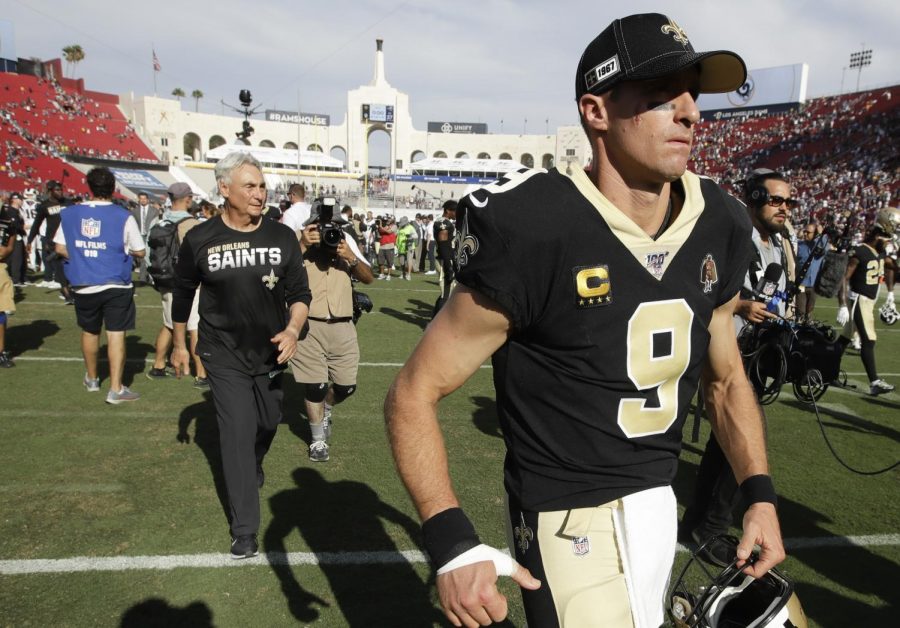 Saints lose to the Rams; Brees leaves stadium injured!
( Original Video Via: NFL)
(Los Angeles, CA-)    Last Sunday, the New Orleans Saints took on the Los Angeles Rams in the revenge match of the year. Last season the Saints' season ending in a heartbreaking loss to the rams after the referees of the game didn't call a penalty that would have sealed the game for the Saints. Fans were furious, and expecting the refs to be on top of their game, but sadly the Saints were unfortunate again.
The game started evenly, with both sides keeping each other to only field goals but that all changed when Saints' defensive end, Cam Jordan, recovered a fumble 80 yards for a touchdown, just to have it taken away when the ref's made a mistake and called the play dead before the play actually ended.
But that wasn't the only heartbreak of the day. Saints' quarterback took a mean hit to the hand, and suffered an injury. The Saints' backup quarterback played the rest of the four quarters, and to many, played a less-than-average game. Earlier this morning the fans were informed that Drew will be out for six weeks to recover from his injury.
So how do the Saints feel about this? Cam Jordan had this to say about the reversed touchdown. "I didn't even hear the whistle," Jordan said. "I grabbed the ball, 15, 20 yards down the field. Allegedly a whistle was blown — clearly, I mean, a whistle was blown. Normally you let the play happen. Any Foot Locker — I mean, referee — usually tells you, you let the play happen, then you go back and review the play." (via: CBS sports)
Cam was obviously upset with the referees, jokingly calling them "foot locker", a reference to the shoe store employees who wear referee-like shirts. The question on everyone's minds: "Will this be the end of the playoff hopes for the Saints?" Only time will tell.