A Profile of Hillsboro Senior Defensive Lineman Greg Boggs
The Burro's leading tackler is focused on ending the playoffs at the state championship.
When media reports on high school football players, it seems that everyone wants to talk about the offense. There are many football positions who have obvious roles, like the quarterback. But when it comes to telling the difference between the fullback and running back, it may not be as easy. While the offense  can be very exciting, the quote by the legendary Alabama  football coach, Bear Bryant still holds true, "Offense wins games, but defense wins championships."
The Hillsboro Globe has chosen to focus our first player highlights on those that play who are tough and intelligent but are rarely featured on the sports pages.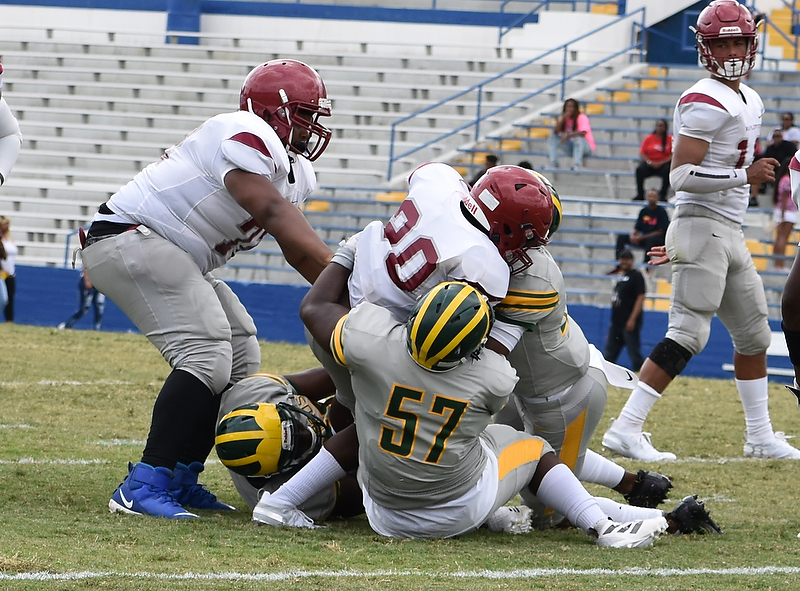 Senior Greg Boggs, a defensive tackle for the Hillsboro Burros is a player who Assistant Head Coach and Defensive Coordinator, Anthony Brown states, "He is a player who puts hard work and team culture first. Boggs is a valuable asset to our team because he is intelligent and a leader. He is integral to getting the defensive lineman set up and in a player who will work hard every single practice."
Boggs is a senior in the USCCU Academy of International Business Communications. We began the interview by asking how his senior year has been different from other years of high school. Boggs states he is more focused than ever. "I am a lot more focused in this year with a lot of added stress coming this year you have to be locked in. I have goals for myself and my team. I want to go further in the playoffs than previous years and I most definitely want to go to the state championship game in Cookeville."
Preparation is key when trying to accomplish goals. It is important to have a focused routine if a player wants to accomplish goals. Boggs describes the preparation for a game as very important. "As a team we watch film of our own play and of the team we will be playing. In addition, there is practice. We practice hard everyday, no matter the conditions."
To understand how hard Boggs and other lineman work in practice, you have to have an understanding of what a defensive lineman's role in the game is.
Dicks Pro Football Tips describe a defensive lineman, "as the first line of defense. A defensive line consists of three or four players who line up opposite the offensive line. Usually there are two Defensive Ends (DE) on either side and one or two Defensive Tackles (DT). Their job is to shed the blocks of the offensive linemen and tackle ball carriers, usually running backs coming through the line or quarterbacks dropping back to pass. If a player is on the defensive line, they are generally big and strong." Boggs is definitely strong and has the stats to prove it.
He has 34 solo tackles and 18 assists. He has 12 quarterback hurries. Being strong is not enough to be a leader as a senior, a player has to have the right mindset. "Every play a lineman makes has to be the most important play of the game.  To be honest,  on every play I just try to get to the quarterback and hit him as hard as I can."
As a senior leader, Boggs explained to us that there is more to the game than winning, it has taught him to value leadership. " It has shown me a lot about leadership skills and how to improve your work ethic. How to work as a team not an individual, is the key to leadership."