'Not All Who Wander Are Lost' is the title of the 2019 Hillsboro Marching Band Show
Saturday, September 14, 2019, the Hillsboro Marching band competed in a marching contest at Hendersonville High School. The band placed third in its division and color guard placed second its division.
The Hillsboro Marching Burros have an amazing show in store for you this year is called Not All Who Wander are Lost. The idea for this show comes from the fact that currently there is no home field for the Hillsboro Burros with all outdoor sports. Even the Hillsboro Players theater group is tasked with finding creative stages for each of its plays this school year.
Student athletes and faculty wander to a different field every ball game night and a home game is nothing like what Burros knew to be a home game just two school years ago. The music department also wanders rehearsing on the tennis courts, practicing in hallways and shady spots after school. A functioning band room is nearly non-existent due  to the construction . Currently, their new home is the old football locker room that rings of musical instruments bouncing loudly off concrete walls not designed to absorb sound.
There are 5 movements to Not All Who Wander are Lost. The following works that are featured are written especially for marching bands. These are the featured musical works:  Rhapsody in Blue, Malaguena, Waving Flag, Shire Theme, and Brooklyn. Each of these selections represent a different country the band leads its audience through beginning with  America, Spain, Africa, New Zealand, and then back to America specifically Brooklyn.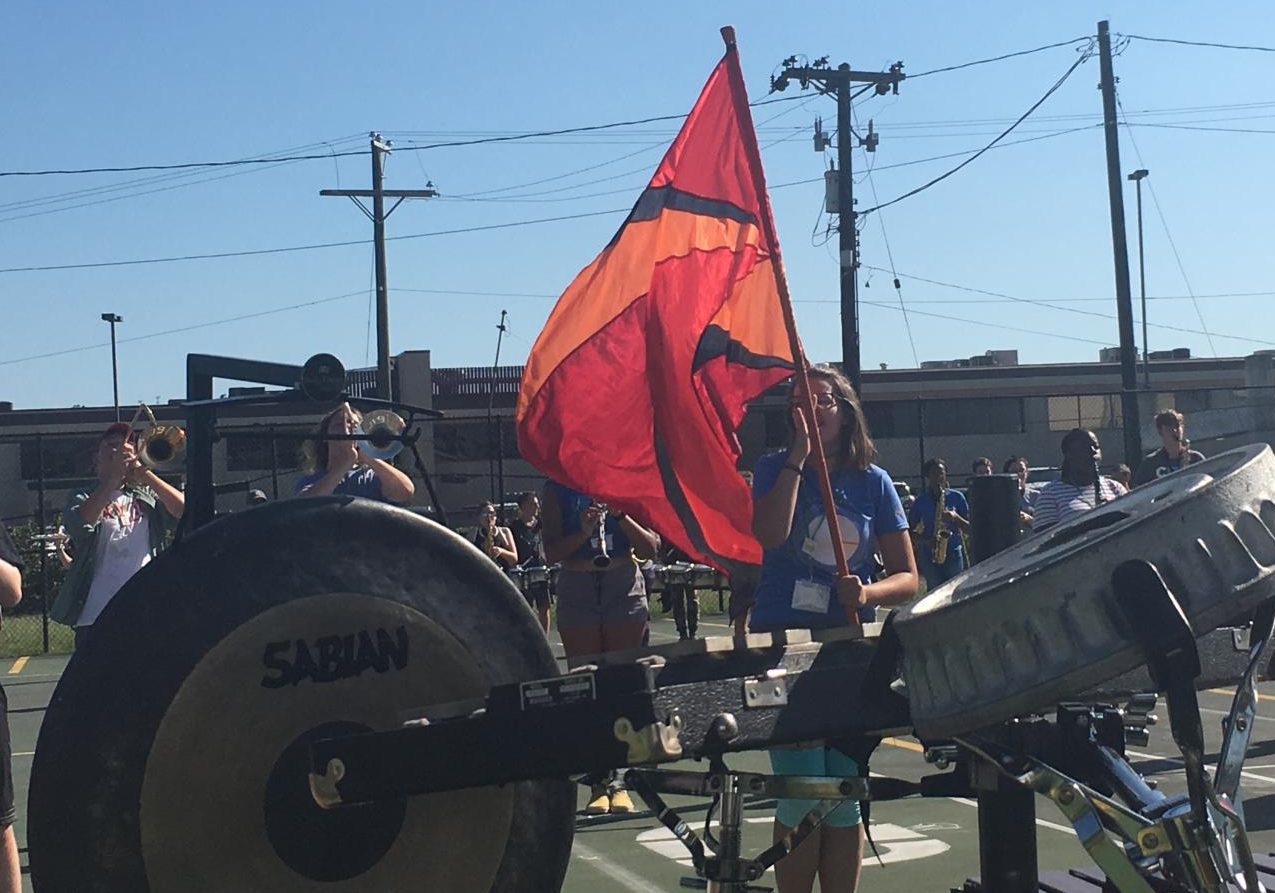 No seasonal marching show would be complete without out unique and beautifully designed silks and costumes for the color guard.
The Hillsboro color guard will be outfitted begin the performance as airline hosts and tacky tourists.
These characters led by Marching Burros Band Field Commander, David Ware along band director, Alison Beiderman who both came up with this amazing theme for a show.
Along with them the leadership team helps to brainstorm amazing ways to enhance the story and theme. For example, using creative props are a mainstay of the Marching Burros.
The main prop for the show is a giant inflatable globe that is impossible to miss. But if one has seen a marching band show, you know that there are surprises the show creators have to keep the audience's attentions. A characteristic of a Hillsboro show is the integration of guard techniques into the bands work by integrating visuals. These components are judged at competitions.