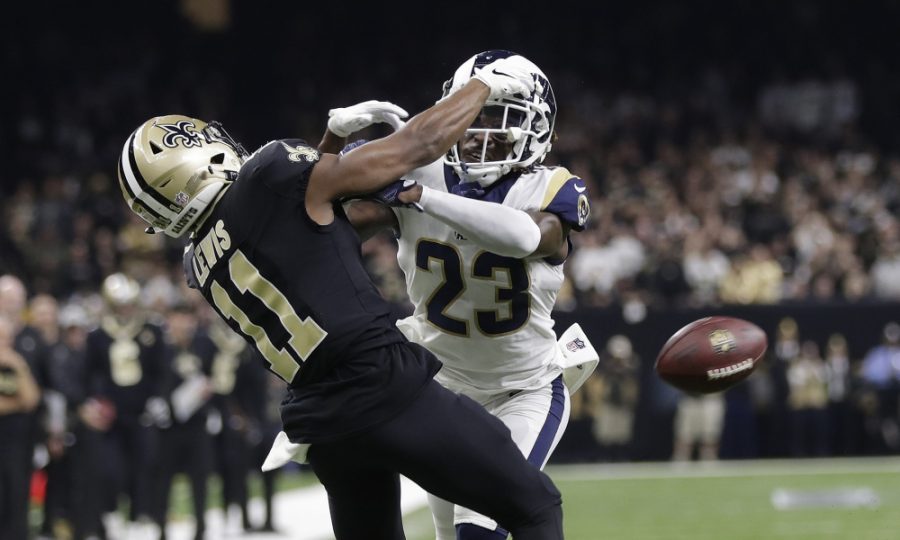 Rights Reserved-Hillsboro Globe; Associated Press AP
2018 NFL Official 'No Call' Leads New Rule in NFL 2019-20 Season
Via- Superstar Sports Videos and FOX
New Orleans, LA – Background Last season, the Los Angeles Rams played the New Orleans Saints in the playoff game to determine who was going to go to the Super Bowl. It was an extremely close game, with every down, every penalty being more important than if there was a blowout.
It was so close, the Saints and Rams exchanged leads every couple of drives.
The game was eventually turning in the favor of the Saints when they managed to stop the Ram's offense, and got possession of the ball. The Saints' plan was for a pass to Saints' receiver, Tommylee Lewis, to score a first down and continue the drive downfield.
The Saints' quarterback, Drew Brees, snapped the ball and dropped back to throw a pass to Lewis. The pass was in front of Lewis, but before he got the chance to lay hands on it, the Rams' safety, Nickel Robey-Coleman, blindsided Lewis.
The Saints' sideline was furious and expected a flag to be thrown for pass interference, but no flag was thrown. The TV audience thought a flag would be thrown; the play-byplay and color broadcasters thought a penalty was coming. But nothing was called and that moment has come to be known at the "No Call" play.
The Saints had to settle for a field goal. But the No Call turned the momentum in favor of the Rams, who eventually scored and won the game.
Saints fans around America were devastated and angry with the NFL for letting something like this happen. Later that month the NFL issued an apology and told of their intentions to implement a new rule starting the 2019 NFL season.
The rule that will start with the season allows teams to challenge interference and non-calls in the first 28 minutes of each half. "One thing everyone will agree on is we needed a system to correct that egregious, oh boy, jump-out-at-you play…But, we've added a subjective portion of the game to replay," said Parry, a 2019 Super Bowl referee.
How the new rule is implemented remains to be seen. The New Orleans Saints played the Houston Texans  on Monday night to the first Monday Night Football game and though the game was close, it was played without incident.