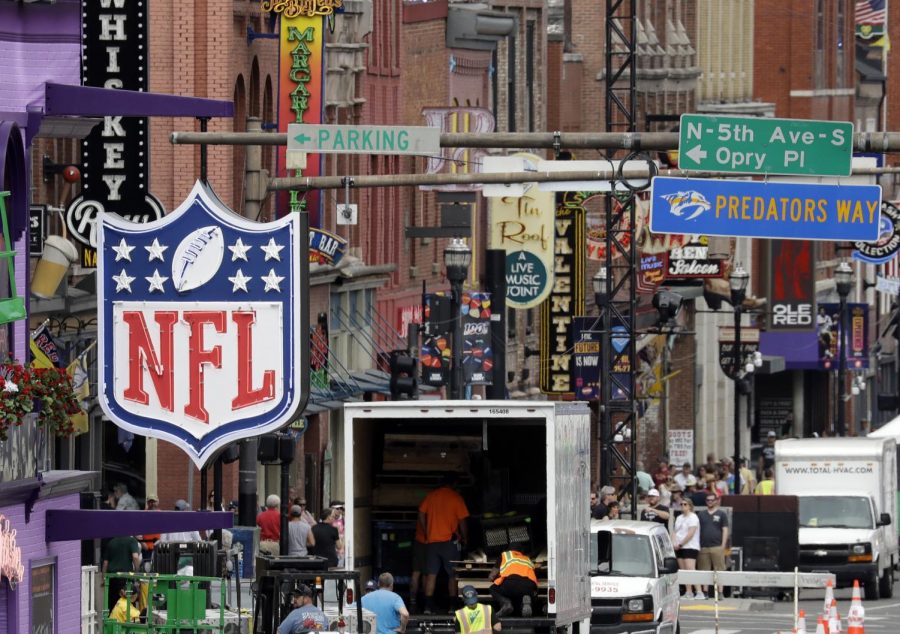 The Get Down at the Full-0n Fan NFL Draft Experience
Music, History, Headlines, NFL Fan Combine and more!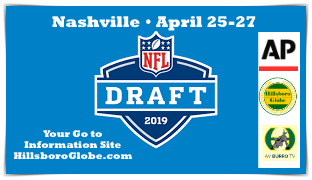 NFL Draft Experience Presented by Oikos® Triple Zero, invites families and fans of all ages to enjoy a FREE admission, three-day football festival held in the plazas directly across the river outside of Nissan Stadium from Thursday, April 25 – Saturday, April 27.
Football fans of all ages  will be able to participate in interactive exhibits, immersive games, virtual reality experiences, free player autograph sessions, history booths that include a display of the Super Bowl Rings and more!
STEP 1 Register for the NFL App to a full-on football fan experience is to download the NFL FAN MOBILE APP.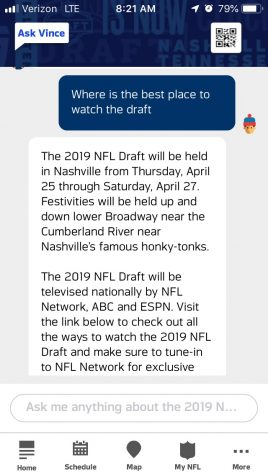 CLICK HERE FOR NFL FAN MOBILE PASS
STEP 2 Ask Vince, the NFL Draft 24/7 Virtual Concierge any question about what you would like to do.
For example, the Hillsboro Globe asked, "Where is the best spot to watch the first round?" Where is the parking?" And the most important, "Where are the restroom?"
What we found is that 'Vince' seems to know everything and has a map for just about any activity you would like to experience. Even better – the map is interactive allowing the fan to zoom in for a variety of needs like First Aid  stations, restaurants, and visitor information centers. Click the Map below and it will link you directly to the NFL Map.
GAMES:
FMP = Fan Mobile Pass Required
Combine Corner:
Vertical Jump FMP
Jump as high as you can and hit the corresponding flag to discover your vertical reach just like at the NFL Scouting Combine!
40-Yard Dash FMP
Race down the field against your opponents and digital NFL players on a giant 40-yard long LED wall!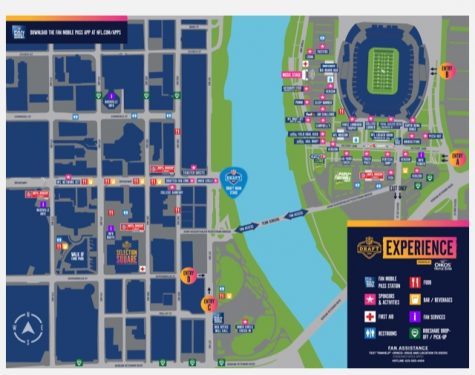 FedEx Air Challenge FMP
How do your quarterback skills stack up against the best? Find out by testing your passing accuracy on specially designed targets.
Field Goal Kick presented by Oikos® Triple Zero FMP
Test your ability to kick a field goal through NFL uprights.
Hail Mary presented by Oikos® Triple Zero FMP
Test your long-distance accuracy by throwing a deep pass over defenders into a drop-in net.
NFL PLAY 60 Zone presented by Danimals®
Gear Up & Go FMP
Try on NFL equipment and feel what it's like to get dressed for gameday.
Play Football Field presented by Danimals® FMP
Watch and learn from USA Football coaches and play NFL FLAG football! On-field clinics are open to boys and girls ages 6-17. Daily clinics open on a first-come, first-served basis. Below schedule is subject to change.
Thursday, April 25: 12PM - 9PM 




Friday, April 26: 12PM - 9PM 




Saturday, April 27: 10AM - 4:30PM 

ATTRACTIONS:
Autograph Stage at Draft presented by Panini FMP
Get free autographs from current NFL players and NFL Legends. Schedule pending.
College Football Corner
View College Football Hall of Fame memorabilia and cheer on Draft prospects from your favorite college team. Life-sized player mannequins offer unique photo opportunities.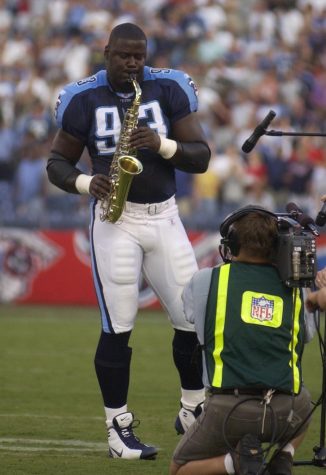 Look Like A Pro
Step inside a uniformed body-cast mold bearing the insignia of your favorite NFL team and have a friend snap your photo.
Music Stages
Visit the stage featuring NFL team mascots, cheerleaders, drumlines, and local musical talent.
NFL Draft Experience Tailgate
Enjoy selections from some of Nashville's best restaurants in a "taste of the town" tailgate.
NFL Draft Photo Frames presented by Snickers®
Take a picture in the four Photo Frames presented by Snickers® with the iconic Nashville skyline!
NFL Draft Set FMP
Visit the official NFL Draft set and take your spot behind the podium.
NFL Locker Room presented by Oikos® Triple Zero
Visit a replica NFL locker room as it appears on gameday. Experience the sights of a real NFL pregame inside our video tunnel!
NFL Museum
The NFL Museum features:
• Full collection of 52 Super Bowl rings
• Hall of Fame Bronze Busts
• Hall of Famous FMP – Get your own bronze bust digitized!
• George S. Halas NFC Championship Trophy
• Lamar Hunt AFC Championship Trophy
• NFL Auction FMP
• Walter Payton NFL Man of the Year Award presented by Nationwide.
Pepsi NFL Helmet Photo Opportunity
As you enter NFL Draft Experience, take your photo with your NFL team's oversized helmet. Share your photos through your favorite social channel and Fan Mobile Pass.
Vince Lombardi Trophy FMP
Fans may take their photo with the most prestigious trophy in sports.
CONCERTS
NFL Draft Experience Presented by Oikos® Triple Zero is the LIVE music home of the 2019 NFL Draft! This is the first NFL Draft festival to integrate a free, live music concert series featuring 20 Nashville-based artists of all genres.
Headlining artists on the Draft Main Stage include:
• Tim McGraw on Friday, April 26
• Dierks Bentley on Saturday, April 27
• Stay tuned to see who else will be playing at the Draft Main Stage!
LOCATION:
1st Avenue and Broadway
The NFL Draft concert series is FREE and open to the public. No tickets are required.
Go to VisitMusicCity.com/nfldraft for more details!
STAY CONNECTED
Follow @NFL and #NFLDraft to get the most up-to-date 2019 NFL Draft news.
Register for Fan Mobile Pass for access to all the action at NFL Draft Experience by visiting NFL.com/FanMobilePass.
Questions about NFL Draft Experience? Email [email protected]