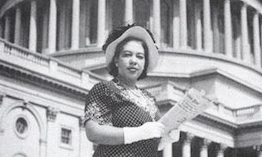 Alice Allison Dunnigan: Trailblazing Journalist
The 2019 Women's History Month theme is "Visionary Women: Champions of Peace & Nonviolence." The theme honors "women who have led efforts to end war, violence, and injustice and pioneered the use of nonviolence to change society." Check back in 2019 to see what we have planned for Women's History Month.
Alice Allison Dunnigan was the first African-American journalist to serve as a correspondent at the White House. She was also a  member of the Senate and House of Representatives press galleries, a civil rights activist, and author. As a trailblazer for both women and African American's, it is important to remember those authors who risked much to singularly tell the truth.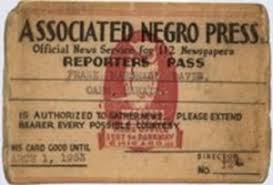 Alice Allison Dunnigan was born April 27, 1906 in Russellville, KY and died on May 6, 1983 at the age of 77 in Washington, D.C.
From the early age of thirteen, Dunnigan began writing one-sentence news items for the local  Owensboro Enterprise which was a newspaper during the time. These news items were roughly the same length of a Tweet or Instagram post. Throughout her high years, she pursed covering the news as professionally as she was allowed.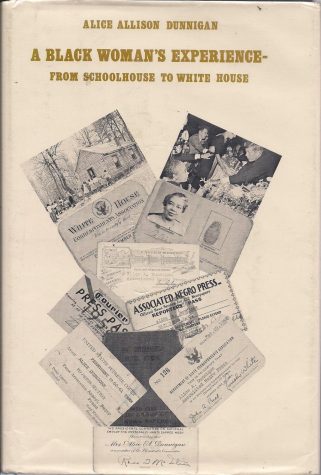 It was her dream to experience the world through the life of a newspaper reporter. In 1925, at the age of 19, she married a tobacco farmer, however the marriage dissolved not long after they married.
After she began teaching in the Todd County School System in Russellville while taking courses in journalism at Tennessee A&I State University which went on to merge with Tennessee State University on July 1, 1979.
Like many teachers, Dunnigan realized her students had little knowledge of the historical contributions that African Americans  made to the state of Kentucky, so she began making Kentucky fact sheets.
Later her fact sheets were collected and turned into a manuscript in 1939, but weren't published until 1982 under the title "The Fascinating Story of Black Kentuckians: Their Heritage and Tradition."
In 1936,  at the onset of World War II, She landed a freelance writer position for the Chicago, IL branch of the American Negro Press (ANP) and night courses at Howard University in statistics and economics.
In 1946 she took a job writing for the Chicago Defender, which was weekly based newspaper considered by many African Americans to be the seminal regularly published work whose target audience was the African American.
She eventually secured a capitol press pass. With that she was able to cover stories about the Congress, which was off limits to most reporters, the public, and especially women and African Americans.
Two years into her career as a White House correspondent, she was granted the duties of covering President Harry S. Truman. The civil rights movement was gaining popularity as this became a common theme in her writing.
Dunnigan left the APN and the galleries of the White House to work specifically with Lyndon B. Johnson's campaign for the Democratic nomination.
Between 1966 and 1967, worked as a specialist for the Department of Labor and she served as an associate editor with the President's Commission on Youth Opportunity in 1967.
In 1970, after nearly thirty years as a career reporter at the White House,  she retired from government service and wrote her autobiography "A Black Woman's Experience: From Schoolhouse to White House" , which was published in 1974.
Dunnigan wrote in her autobiography, "reporting was a way out of the confines of my hometown, where the few positions open to black women were teaching and cleaning."  And though she taught in a segregated school for 18 years, her national contributions were in the industry of writing and journalism. She pursued her dream by writing part-time for African-American newspapers and she is now recognized in Newseum, a museum devoted to the art of journalism.
Dinnigan's persistence, even as the weeks turned into years, eventually drew mainstream press attention (as well as headlines in the 112 black newspapers for which she reported). Eisenhower regularly called on her until her questions at press conferences regarding civil rights caused him to ignore her altogether. Up till 1954, Alice Allison Dunnigan  was also the only reporter who brought up civil rights issues at Eisenhower's press conferences. 
---
What's Coming Up in Nashville to Celebrate Women's History Month
Sony Musicians Celebrate Women
Titled "A Celebration of Women's History Month," the event will feature performances from Rachel Wammack, Hannah Dasher, Carlton Anderson, Robert Counts, Seaforth, and more. The newcomers will honor some of country music's most legendary female artists, by covering hit songs and spotlighting their accomplishments over the decades.
The show will be hosted by media personalities Ashley Eicher and Hunter Kelly, of the All Our Favorite People podcast.
All event proceeds will go to benefit She Is The Music, a non-profit organization dedicated to creating change for women and building an equal future for music through various programs and initiatives.
---
Vanderbilt University Women's History Month Events
---

Come celebrate sisters of all shapes, sizes, colors and creeds this International Women's Day 2019!
IWDNashville is a day for us to come together in joy and fraternity, with Speakers from every walk of life, performers representing the vibrant diversity of Nashville, and networking for every hue in the spectrum of gender, culture, and color, along with our fabulous allies and support from Nashville-born businesses!
The event will be held at The Parthenon, icon of the City of Nashville!
Come to #IgniteYourLightNashville and see it Burn Brightly with other local women!
---
March 31, 2019: Couture Construction, benefiting Habitat for Humanity of Greater Nashville Women Build

Join Habitat for Humanity of Greater Nashville Women Build on March 31 for Couture Construction! From 6:30 to 9 p.m. at Dillard's at The Mall at Green Hills, enjoy a fun-filled evening of networking, shopping, a fashion show featuring the organization's 12 extraordinary "Groundbreakers", specialty cocktails, hors d'oeuvres and a swag bag. Your $50 ticket includes all of the fun and goes to a great cause. Every dime of ticket profits and a portion of Dillard's proceeds from the evening will go towards Women Build. See you there!  habitatnashville.org
---
SOURCE OF THE AUTHOR'S INFORMATION:
Alice Allison Dunnigan, A Black Woman's Experience: From Schoolhouse to
White House, (New York: Dorrance, 1974); Carol Crowe-Carraco, Women Who
Made A Difference (Lexington: University Press of Kentucky, 1989); Nancy
J. Dawson, "Alice Allison Dunnigan: Led the Fight for Black
Journalists," The Crisis (July-August 2007), 39-41
Robinson, Y. (2018, September 22) Alice Allison Dunnigan (1906–1983). Retrieved from https://www.blackpast.org/african-american-history/allison-dunnigan-alice-1906-1983/