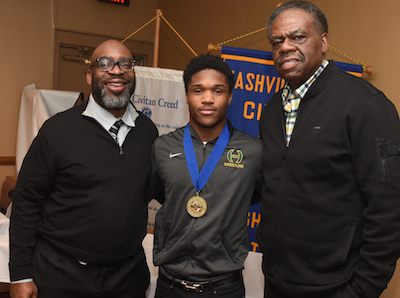 Rights Reserved-Hillsboro Globe; Associated Press Mike Strasinger
AD Hancock – Walter Nipper Awards handed out to Davidson County Athletes Wednesday
"We recognize this group of young student-athletes that have displayed true character, dedication and sportsmanship all while playing the sport of football." - Nashville Metro Schools Athletic Director Roosevelt Sanders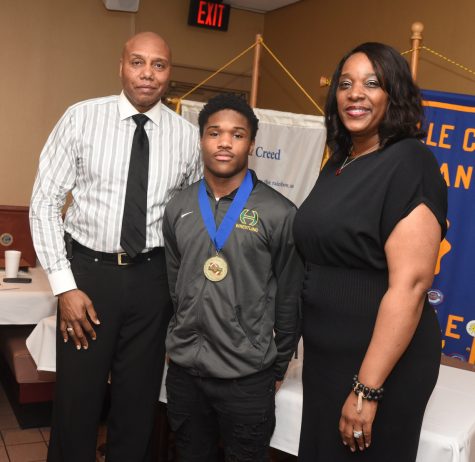 Hillsboro High School athlete, Darian Williams wins the 2019 AD Handcock – Walter Nipper Sportsmanship Award
John Wooden said once, "Be more concerned with your character than with your reputation.Your character is what you really are while your reputation is merely what others think you are."
Wednesday, Nashville Civilian Club, an organization devoted decades of work to the development of character of young people through the Greater-Nashville community presented what many recognize as one of the finest awards a young man or woman can receive – the AD Hancock-Walter Nipper Sportsmanship Awards.
The Hancock-Nipper Sportsmanship Award is presented annually to high school athletes from Davidson County region champion (or better) who not only possesses outstanding athletic abilities but also embodies a moral character and has demonstrated sportsmanship throughout his or her athletic career.
The award is named after two long-time members of the Nashville City Civitan Club: A.D. Hancock, a highly-respected administrator and Walter Nipper, owner of Nashville Sporting Goods, who contributed much to the Nashville community.
The recipients of the Hancock-Nipper awards are determined by coach vote and given to those who display true character on and off the field and a dedication to sportsmanship.
These awardees are exemplar examples of the culture that athletics can contribute to a school environment.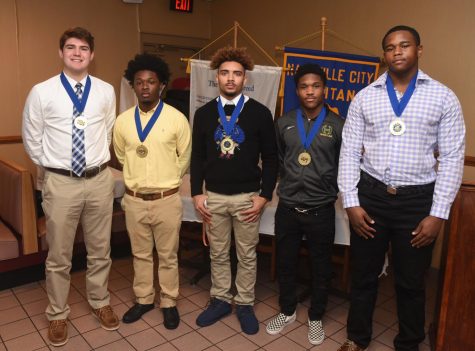 Darian Williams, a two-sport athlete who just finished competing at the TSSAA State Wrestling Tournament is the 2019 Hillsboro High School Nipper Awardee. He is a student of the Audio, Visual and Broadcasting pathway of the Academy of International Business and Communications.
The Nashville City Civilian Club presented its 2018- 2019 A.D. Hancock/Walter Nipper  Sportsmanship awards Wednesday at Swett's Restaurant, a tradition every year.
Other Davidson County award recipients are: Bryce McCormick, CPA; Tyshawn Boyd, Maplewood; Darian Jones, Pearl-Cohn; Darian Williams, Hillsboro; Michael Reese, Cane Ridge; and Da'Joun Hewitt, Davidson Academy.
We recognize this group of young student-athletes that have displayed true character, dedication and sportsmanship all while playing the sport of basketball," Nashville Metro Schools Athletic Director Roosevelt Sanders said.