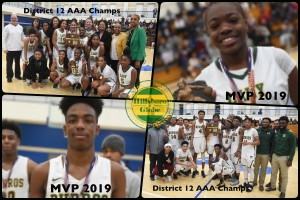 Get the brooms out of the closet – The Burros sweep District 12 AAA Tournament
Top four in girls advance to next week's Region 6 Tournament at Brentwood: #1 Hillsboro, #2 Cane Ridge, #3 Antioch, #4 McGavock Top 4 Boys teams to advance: #1 Hillsboro, #2 Overton, #3 Cane Ridge, #4 McGavock
Photo Galleries from District 12 AAA Tournament
Both the Hillsboro Girls and Boys teams swept the District 12-AAA Championship games and the MVP's on Saturday at Antioch in the district tournament. Anaya Martin and JP Pegues earned the All-Tournament Most Valuable Player award handed out at the end each game.
First, the Lady Burros beat a very good Lady Ravens Cane Ridge team, 44-36. Like the regular season match-ups, this game promised to be intense, close, and well coached. Hillsboro's head coach, Cherish Stringfield was named District 12 AAA Coach of the Year. Joann Tribue, the Lady Ravens coach was named CoY in 2018.
The game was a nail biter and neither team led by more than 4 in periods 1-3.   The Lady Burros pulled away as the Lady Ravens were forced to foul to attempt to get the ball back, however, Trechelle Burch stepped up her game, leading the team with rebounds in the 4th quarter.
Strong play under the basket set the Burros up for another win. The Burros dominated the first 10 minutes of the game shutting out Overton 18-0 setting up an 18-0 lead against the upstart Overton Bobcats,  60-47 win.The Bobcat's valiant but unsuccessful surge late in the third was just not enough to overcome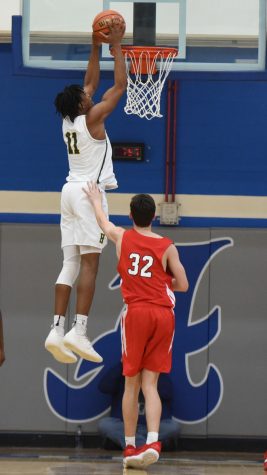 All District Girls Team:              All District Boys Team:
Anaya Martin                                        JP Pegues
Jada Reed                                              Darrow Parrish
Trechelle Burch                                    Nate Hall
MVP: JP Pegues
Honorable Mention                               Latisha Parris
12AAA Coach of the year!!
Cherish Stringfield
ALL TOURNAMENT MVPs
Anaya Martin and JP Pegues
Other Games
Earlier in the girls' consolation, Antioch Lady Bears beat McGavock Lady Raiders, 44-36.
The boys consolation led Cane Ridge rallying to beat McGavock 69-63.
So the top four in girls advancing to next week's Region 6 Tournament at Brentwood will be: #1 Hillsboro, #2 Cane Ridge, #3 Antioch, #4 McGavock
The boys' top four – #1 Hillsboro, #2 Overton, #3 Cane Ridge, #4 McGavock
The District 11 team seeds are yet to be determined. Action starts Friday, Feb. 22nd.