Life, Love and Marriage in Renaissance Italy Exhibit-Review!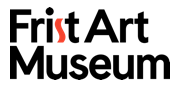 The Frist Art Museum is a beautiful, historical building that houses  both permanent and touring visual arts exhibitions. Originally built in 1934 as  Nashville's centrally located U.S. Post Office, it remains a culturally important historic landmarks in Nashville.
In 1988, the Post Office was added to the National Register of historic landmarks. The museum is open to the public seven days a week, and admission is free for those under the age of eighteen.
In the 1990's, a growing Nashville community out grew the building and the city leaders began to see a new purpose for the building. Thomas F. Frist, Jr., M.D., and other city leaders created the Frist Foundation which, in turn, helped to raise money to create a museum that preserved the recognizable Art Deco architecture.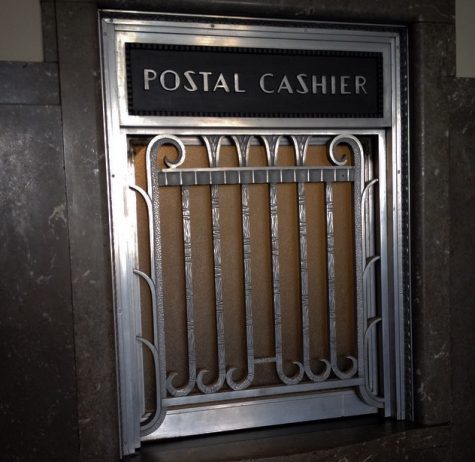 The commitment to Nashville arts scene goes beyond the famous and recognizable artists. The Frist also displays high school student works of art and three MNPS schools, Hillsboro, Hume Fogg, and Nashville School of the Arts are currently represented in the exhibit. Those students are Zoe Spain, Jared Boston, Lizzy Gaviria, Nancy Henin, Katie Taylor, Heidi Viall, Madison Weathers and Jessica Cardona.
In 1933, the Nashville architecture firm, Marr & Holman, designed a public building that is both unique and pragmatic. The interior is spacious with high ceilings and roomy galleries perfect for both permanent works of art and for displaying collections of art that tours throughout the world.
Currently, the Frist has collections on display that are from a variety of types of visual arts. The museum showcases paintings, sculptures, and historically relevant artifacts.
A recent temporary collection,  Life, Love and Marriage Chest in Renaissance Italy exhibits fourteenth century through the sixteenth century pieces of art. Fans of museums will move from gallery to gallery, from room to room, being led on a history of different styles of Italian Renaissance art.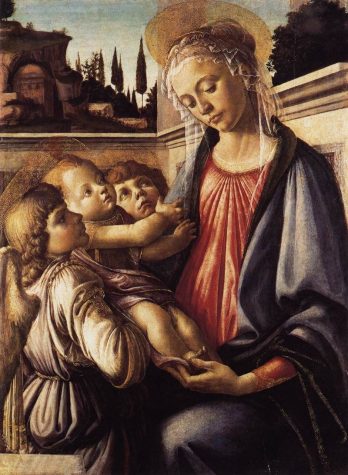 The painting,  Alessandro di Mariano di Vanni Filipepi's 'Madonna and Child' is a work that is important to view while it is on loan here in Nashville. Madonna is painting of the Virgin Mary surrounded by children while holding the baby Jesus. This painting resonates because of how glows though it limits the use of the the color 'gold'. Visitors have an opportunity to view a work that evokes the sacred and holy without having to attend a large city museum like those in New York or Chicago.
Paintings are not the only works of art from this time period on display. There are also sculptures and artifacts. For example the Chopines depicts a 16th century pair of  heeled shoes that are what many call platform shoes. Women wore these to protect them from the street dirt and mud.
Other interesting artifacts that are part of the exhibit are armor worn by 15th century soldiers in Italy and common house hold items like jars used to contain pharmaceutical items or herbs.
Young Tennessee Artists Installation
The Frist Art Museum's seventh biennial Young Tennessee Artistsexhibition showcases some of the finest two-dimensional artwork by high school students across the state. Students in Advanced Placement (AP) and International Baccalaureate (IB) studio art programs during the 2017–18 academic year were invited to submit their work to this exhibition. After reviewing more than eight hundred entries from students in home-school programs as well as private and public schools, the jurors selected works by twenty-seven students.
This exhibition illuminates their skillful synthesis of form, technique, and content. The array and quality of work demonstrate the growing sophistication and diversity of experiences within the AP and IB studio art programs across Tennessee.
Zoe Spain, Hillsboro High School, Nashville
Jessica Cardona, Nashville School of the Arts, Nashville
Jared Boston, Hume-Fogg High School, Nashville
Lizzy Gaviria, Hume-Fogg High School, Nashville
Nancy Henin, Hume-Fogg High School, Nashville
Katie Taylor, Hume-Fogg High School, Nashville
Heidi Viall, Hume-Fogg High School, Nashville
Madison Weathers, Hume-Fogg High School, Nashville
Upcoming – An exhibit that will display masters such as Degas, Van Gogh, Monte Frida Kahlo and Diego Rivera exhibit. Tickets for this installation can be purchased in advance, which is recommended as the works in the installation will be very recognizable.
If interested in finding out more about the historic importance of the building, The Architecture Tour  is offered the first Saturday of every month at 4:30 p.m. before the First Saturday Art Crawl.