A common theme emerges as coaches and players share thoughts on National Signing Day 2019
Metro Nashville Public Schools Athletics has 44 commit a National Letter of Intent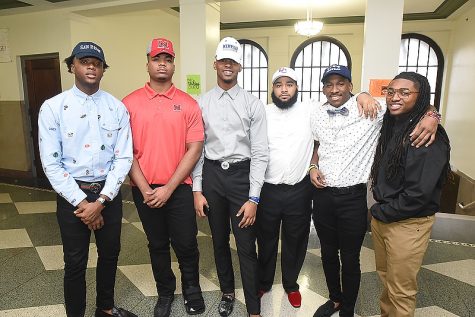 One of the most exciting moments for a student-athlete and his or her family is receiving a verbal scholarship offer. Years of hard work have led to this moment. However, nothing is official until an athlete signs his or her National Letter of Intent (NLI.)
On Wednesday, February 6th, high schools in Metro Nashville Public Schools held the annual  National Signing Day. 
This is a day many athletes dream of becoming a reality.
While many athletes signed during the early period, MNPS had forty-four athletes sign their official National Letter of Intent. This first step is just the beginning, and was described by Coach Jamaal Stewart as "here the real work begins."
Not every school uses the NLI—about 650 NCAA DI and DII schools—and it's not mandatory to sign. Yet if an athlete has worked throughout high school and often longer the NLI have become a one of the first "graduation" moments high schools experience. It is often a celebration with cake and punch where athletes are surrounded by both family, team mates and friends.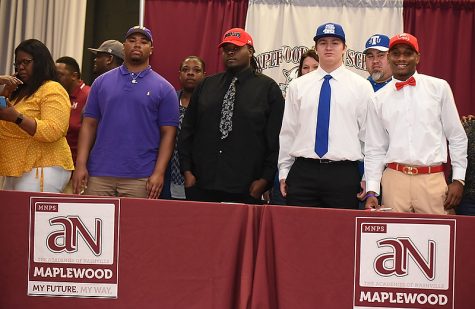 What is National Signing Day?
The National Letter of Intent is not affiliated directly with the NCAA; it was created by the Collegiate Commissioners Association to protect both the college and student from either party backing out. Athletes are able to sign Letters of Intent  several different times through out the school year including an early signing period and the regular signing period. Typically the National Signing Day takes place on the first Wednesday of February.
Starting this school year (2018-19), significant updates to the process of signing changes with new rules that are intended to speed up the timeline for seniors.  "In the past, there was an early signing period (usually in November) followed by a break over the holidays (dead period) before signing NLIs resumed in the spring during the regular signing period." (ncsasports.com).
Fall athletes in 2018 outside of football and men's and women's D1 basketball players can begin signing scholarships on November 14, 2018 and continue to sign anytime through August 1, 2019.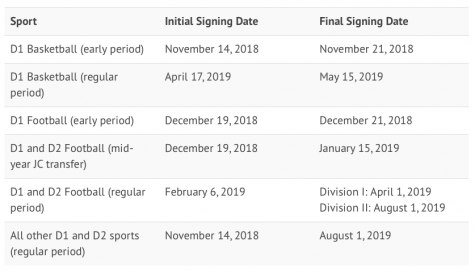 While much of the recruiting process happens long before November of your senior year, the fact that athletes will be ending their recruiting by signing NLIs earlier means recruiting in the lower divisions will likely speed up as well.
In the past, NCAA D2, D3 and NAIA schools would wait for D1 programs to complete their recruiting classes before ramping up their signings. Now that D1 schools will be completing their signings earlier, expect all other division levels to be busy over the holidays and early in 2019 instead of mid to late spring.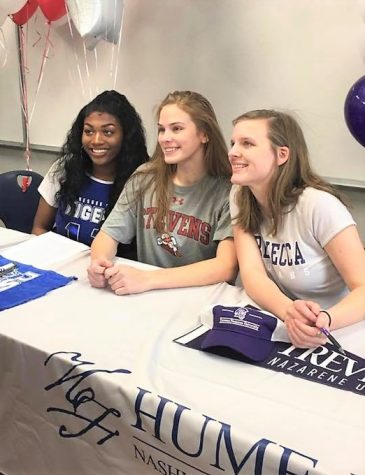 "Be grateful, be flexible and keep the excellent student attitude we as coaches have expected you to have  in the classroom and on the field" stated Head Coach Maurice Fitzgerald of Hillsboro High School in his speech to players and family members  at the afternoon signing. "Remember  that h attitude is everything when is comes to moving on to the next level. Attitude is everything and never forget that the word 'student' comes before the word 'athlete' when you decide to define yourself as a student-athlete. 
Fitzgerald further explained how few athletes have this opportunity to use a talent to further their education. " Only 1% of high school students playing football in high school are able to sit at a table in front of family and friends" and sign a letter of intent to play for a post secondary school, be it Power 5 or a junior college.
This theme was echoed at every signing that happened through the day. Choosing a school as a recruit is harder than many may know. Cane Ridge High School's Devon Starling was asked about how hard the process of making this decision can be during the recruiting process.  "Central Arkansas had interest in me but they wanted me too play defense and I feel in my heart that I am a running back. Memphis University kept telling me they were going to find a way to get me in school as a preferred walk on and at running back."
The NSD event can be either solemn, casual or intimate with coaches sharing insider stories about their players. Clint Dowdy, of Stratford High School was more sure of his decision because the process came down to how the school listened to him and his parents. Choosing a school as a recruit is harder than many may know. "I knew from my first official visit at Tennessee State University that this is where I wanted to not only play football, but also attend classes. Coaches showed both me and my family a lot of love."
Perhaps the most moving moments at NSD events comes when players are given an opportunity to share in front of their audiences. Players thank coaches, share their appreciation they have for all the coaches have done for them.
Signing a contract is often thought to be the most important but these moments of honesty and gratitude inevitably moving and memorable.
Below are the players from Metro Nashville Public Schools who participated on National Signing Day class of 2019.
Antioch High School 
AJ Williams – Bethel University
Cane Ridge High School
Devon Starling– University of Memphis (Preferred Walk On)
Jacquez Norman– Tulane University
Joy Kabelu– Shorter University
Devon Turner – Grandview University
East Nashville High School
Anthony Collier, Miami University (OH)
Stanley Cross, Iowa Central Community College *^*
Jaylun Davis, Defiance College (OH)
Rondarius Gregory, Northern Illinois University (Preferred Walk-On)
Jalen Knight, San Diego Mesa CC (CA)
Jashon Watkins, University of Memphis
Hillsboro High School
Malachi Jackson – University of the Cumberlands*^*
Harold Jemison– Tennessee State University
Theronne Orr- Lindsey Wilson
Nate Ramirez-University of The Cumberlands
Darius Smith-Jireh Preparatory Academy
Chance Williams-University of the CumberlandsC
Hillwood High School 
Ellie Smith – Maryville College, Soccer
Eric Kinnard – Victor Valley College, Football
Hume Fogg High School (Hillwood HS team)
Avery Bass – Victor Valley College
Erie Lawrence – Victor Valley College
Ellie Buffler, volleyball, Trevecca
Kendall Bullock, volleyball, Tennessee State
Ava Smithing, volleyball, Stevens Institute of Technology
Maplewood High School
Carl Birdsong – University of the Cumberlands
Rashawn Dalton-Bethel University
Clint Dowty-TSU early Signee
Travares Springer-WKU early Signee
Pearl Cohn High School 
Jayden Harrison – Vanderbilt
Mayson Harris – Tennessee State University
Darian Jones – Bethal University
Darryl Rogan – Austin Peay State University
Xavier Sheppard – Kennesaw State University
Elijah Simmons – Tennessee
Darius Willis – Lindsey Wilson University
Stratford High School
Samuel Buckner – Victor Valley Community College
Calvin Farmer – Victor Valley Community College
Jaalon Gupton – Tennessee State University
Rod Reed – Eastern Kentucky University
Queen Robinson,  – North Dakota State College of Science
On'Terrius Smith  – Victor Valley Community College
Tomory Stephens- Cumberland University
Deairrus Waller  – Cumberland University