Congrats to all of the MNPS Athletes who signed their National Letters of Intent
Seven Metro Nashville Public School Athletes signed Wednesday, December 19, 2018 commitments to play football
NASHVILLE, Tenn. – College football's Early Signing Period runs from Dec. 19 through 21, with almost all of the action on Wednesday 19, 2018. Generally, this signing day has little of the drama that is almost always present  for National Signing Day in February.
If you're on Twitter, I'd also recommend this list.
Wednesday, six MNPSA football programs held signing events for on the December 19, 2018 National Signing Day for seven athletes who chose to forgo the drama.
The group includes three defensive lineman, two defensive backs, two running backs, two offensive linemen, a tight end, a quarterback and three defensive line men.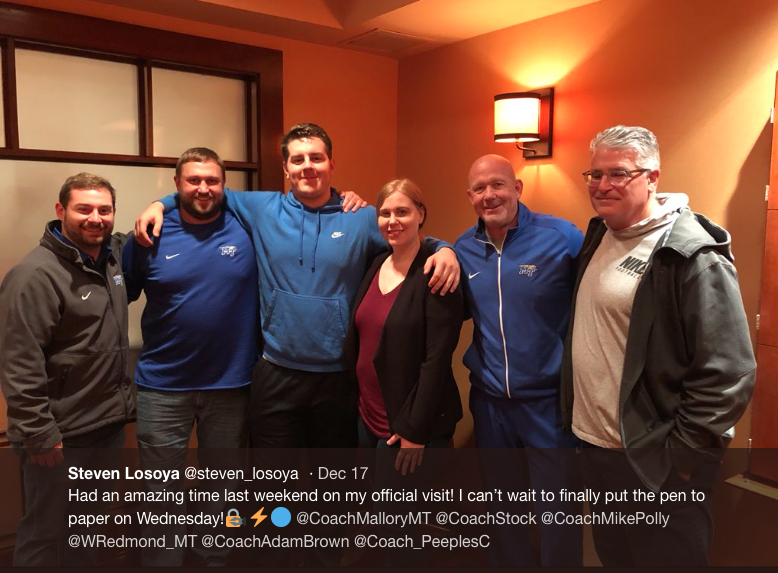 STEVEN LOSOYA III  – MTSU
John Overton High School, Head Coach Steve Williams
OL, 6-4, 290, Fr., Nashville, TN
Parents: Shannon Judge and Steve Losoya
Notables:
Most Valuable Offensive Linemen in Region 5 and
Most Valuable Offensive Lineman, Metro All-City, Nashville
Selected to play in Toyota East West All Star Game
3 year starter on the OL and DL
MTSU – Read More about MTSU Signings
Director of Player Personnel Will Redmond on Losoya III: "Steven will join our team from John Overton High School in Nashville, TN. Every time we turned on his tape, Steven was outworking his opponent. He is a team first player who is very consistent in his blocking. We want offensive lineman who finish the play with their opponent on the ground and that is exactly how Steven operates in the trenches." -MTSU Athletics
---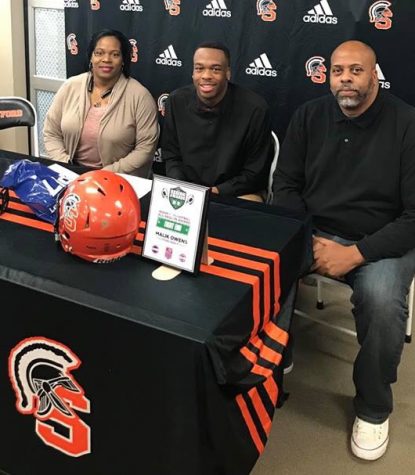 Roderick Malik Owens – Eastern Kentucky University 
Stratford High School, Head Coach – Thomas Porter
TE,  6'5 from Nashville, TN
Parents: Rodney and Tiffany Owens
Notables:
14 rec,  300 yards,  2tds, – All-Region TE
31 tackles, 5pbu, 2ints, 1td
Team Captain- State Semi-FinalistLed the Spartans to a region championship and an improbable run to the state semifinals
Averaged 22.7 yards per reception
Earned all-region honors
---
Joseph Honeysucker – University of Memphis
Hillsboro High School, Head Coach – Maurice Fitzgerald
DET,  6'5; 230  from Nashville, TN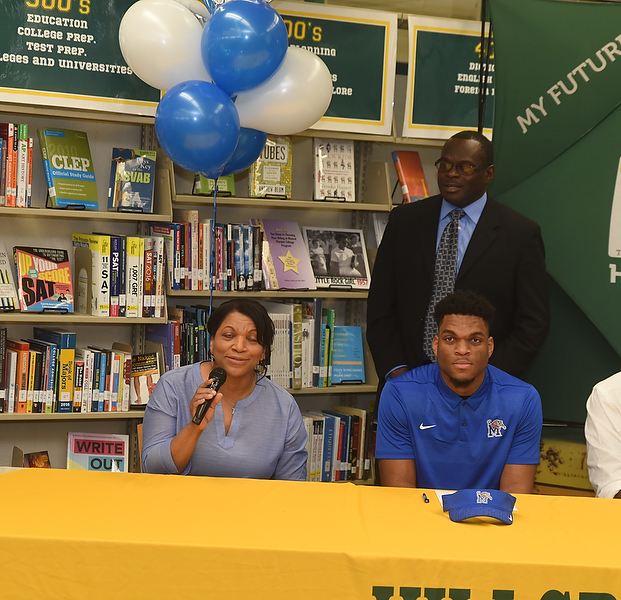 Parents: Jeanette and Joseph Honeysucker
Notables
 Ranked 36 in the state
Career 112 total tackles (48 solo/64 assist)
Career 27 Sacks
75th Hume Award Award recipient, a scholar-athlete trophy given each year to only one football scholar
All-City 1st team, '17, '18 HM '16
Regional MVP Defensive Player
All-Region 1st team '17, '18
East-West 1st team, '18
Middle Tennessee Chapter of the National Football Federation and College Hall of Fame  and nominee Admiral William P. Lawrence Award.
Head Coach Maurice Fitzgerald describes Honeysucker as a "generational player who comes along once in a generation. Every so often God will allow you to  coach a student athlete that you will term a generational player. Joe Honeysucker  is in that class. He is God fearing and humble young man. Joe cares so much about his teammates and the world around him. He is at peace with himself and has a clear understanding of who he is and his purpose in life."
READ MORE ABOUT THE 2018 NATIONAL SIGNING DAY CLASS  – UNIVERSITY OF MEMPHIS
---
Donald Fitzgerald – Vanderbilt University 
Hillsboro High School, Head Coach – Maurice Fitzgerald
OT,  6'9; 280  from Nashville, TN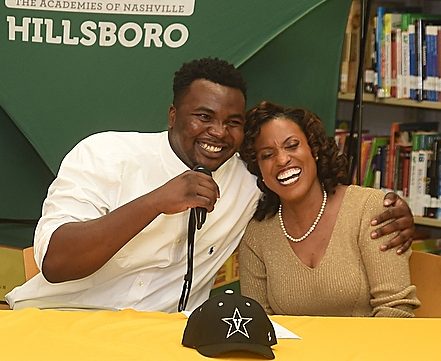 Parents: Maurice and Cynthia Fitzgerald
Notables:
Earned 25 solo tackles and 21 assists for a total of 66 tackles for the 2018 season.
Forced 6 turnovers and had 6 sacks for a loss
All-City 1st team for 2018
All-Region 6 5A team for 2018
Other Honors: St. Thomas Scholar…
Donald Fitzgerald  is a St. Thomas Scholar and a senior in the Academy of Global Health and Science…. AGHS representative to the Meharry Symposium for Scholars…peer tutor and assists with special needs students….volunteers ACT Prep with In Full Motion.
---
Anthony  Collier – Miami University (OH)

East Nashville High School, Head Coach – Brian Waite
DL,  6'3, 275 from Nashville, TN

Parents: Denise Arnell
Notables:
All-Region 2017, 2018
26 Solo Tackles
38 Career Tackles
Averaged 2.5 Tackles a game
3 Sacks
READ MORE ABOUT THE MIAMI UNIVERSITY NSD
---
Clint Dowty III – Tennessee State University
Maplewood High School, Head Coach – Arcente Broome
DE, 6-3, 235 from Nashville, TN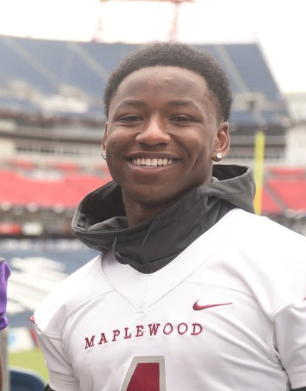 Notables:
Helped MHS to a 12-2 record as a senior
Guided his squad to a semifinal appearance at the Tennessee Class 4A State Championships
Registered 69 tackles, 45 solo, in his final campaign
Tallied 17 tackles for loss, including 15 sacks
Offensively, caught three passes for 37 yards and a touchdown at tight end
TSU Head Coach, Rod REED'S TAKE
"Dowty is a defensive end from here locally out of Maplewood. He had 20-plus sacks his senior year. He has good size at 6-3, 235 pounds. It is great to have local kids who want to come in and be a part of the TSU family."
READ MORE ABOUT TENNESSEE STATE UNIVERSITY'S NSD
---
Xavier Shepherd  – Kennesaw State University
Pearl Cohn High School, Head Coach Elie Brunetti
QB, 6-0, 190 from Nashville, Tenn.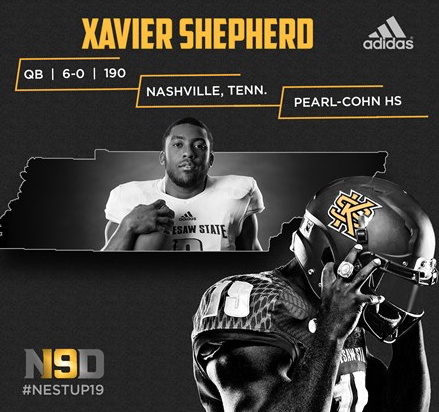 Parents: Sheila and Karl Shepherd
Notables:
Three year starter for PCHS
Career 5,485 passing yards for 52 touchdowns passing
Career 1,778 career rushing yards for 25 touchdowns
Averaged 157.9 total yards per game 157.9 total yards per game
Metro All – City 2016, 2107, 2018
All – Region 2016, 2017, 2018
Region MVP.
READ MORE ABOUT KENNESAW STATE'S NSD
---