Upcoming Choral Concerts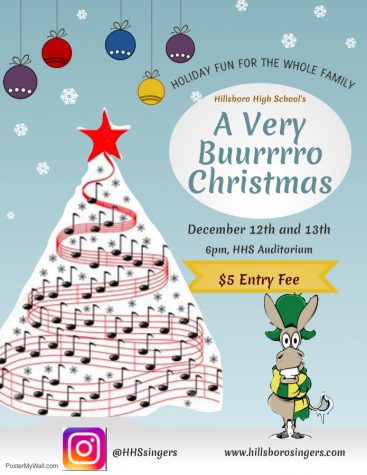 Please join us this holiday season as the HHS singers perform their annual winter concerts:  the Winter Choral Concert and "A Very Burro Christmas".  Both performances will be held in the auditorium at Hillsboro High School.
The Winter Choral Concert is Tuesday, December 11th at 6 PM and features the following choirs: Pops, Chamber, Women's, and Mixed Choir.
"A Very Burro Christmas," is on Wednesday, December 12th and Thursday, December 13th at 6 PM. This concert features the Pops Choir as well as Hillsboro's new Jazz Ensemble.
The performance will include everything from solos to group performances – all to get you in the holiday spirit for just $5!
Janelle Ganske, the choir director and all of her students have worked hard to prepare these special arrangements for our Community.  Proceeds from "A Very Burro Christmas" will benefit Hillsboro's Choral Program.
Mark your calendars this week to see one of the many great programs Hillsboro has to offer.
Follow the Hillsboro Choir's Instagram @hhssingers or check out hillsborosingers.com for pictures, videos and more information.  
Contact the Hillsboro Globe at [email protected] for any additional questions.