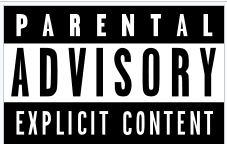 Editors Note: Our music reviewer, DeShaun Ellis reviews a variety of genres of music. Every reader has his or her own personal tastes in music. We place the Parent Advisory on articles where there may be a chance of offending someone. Thank you for reading the Hillsboro Globe.
Traditionally in rap music, women have been overlooked, even though female rappers some of the best rappers in the history of rap have been women. Foxy Brown, Lil Kim, and Missy Elliot are just a few female rappers who have raised the bar in this genre of music.
In our contemporary age, artists such as Dej Loaf, Young MA, Nicki Minaj, and Cardi B are current char toppers with multiple hits.
But guess what? This article isn't about them! Today the focus will be on three amazing female rappers: Rico Nasty, JP (who's name is very explicit so I'm going to abbreviate it throughout this article), and Noname. They all recently released albums and it is a perfect time to go in depth about all three of them.
Rico Nasty

Rico Nasty is a rapper from New York City. I first found out about her when she released Sugar Trap 2, but I didn't listen to it because for some reason I thought she was Princess Nokia and I didn't like 1992. Then, I saw comedian Zack Fox tweeting very favorable reviews of her most recent project, Nasty, and I realized the dumb mistake I had made.
Boy, this tape is on fire. It is real, punch-somebody-in their face, music.
Rico emits so much energy in her music it's hard to sit still when you listen to it. Her voice is so raspy it adds another level of grime to the music that already has so much grime in it. Rico's music is so vulgar I love it, I never realized how many nasty and brash things could be said in two minutes and thirty seconds.
This isn't "easy listening" music. This is what you listen to when you need to get motivated to get something done. It doesn't matter the task. Whether you are going to the gym, hyping yourself up to pitch a business proposition, or trying to complete homework, this is get-it-done music. I'm listening to Nasty as I'm writing this and literally every song on this album is great, but if I had to choose the best they'd be: [Explicit] I'm Nasty, Trust Issues, Pressing Me, and Rage.
JP

I discovered JP's music through video at an underground rap scene in Baltimore. Her music is also very vulgar, but it has a more melodic side to it. Unlike Rico,  JP's music is based around the flow of her music. It is akin to using applesauce to help swallow harsh  medicine.
She just recently released her album JP3 and it's great. The beat choice, the features, and her subject matter just make this album a very easy album to get into. It's perfectly timed at thirty minutes so you don't feel like it's a chore to listen to the album.
While listening to this album you'll definitely be nodding your head the entire time because her flow is so smooth. State of the Union is the perfect example of this. The beat is very chill and melodic and she raps very vulgar lyrics but you don't even realize. I definitely recommend this album, the best songs are: Long Way Home (Oh my god Gangsta Boo's feature on Long Way Home is so good. She really makes you feel like you're a little mollusk and she's a giant. It's Amazing.), I Just Want It, and Ocean Floor.
Noname

Now Noname is an entirely different artist from Rico and JP. Most people have been introduced to her through Chance The Rapper's tape Acid Rap on his song Lost.
At that time, her stage name was Noname Gypsy. She recently changed her name when she learned about the racial connotations behind it.
Nonane is one of the best rappers out period, male or female. Her track Telephone, is the first track I heard and it revolutionized the context of how I listen to her. I reviewed that album two years ago you can read it here.)
Nonane's rapping skills are so out of this world and  you her  poetic background is evident. The rhymes are so effortless.
Also, Nonane's the beat choices are best described as "wow".
They remind me of a jazz club and Noname is the band leader conducting the players with her voice. Everything sounds calculated, but not to the point of it sounding robotic. The features all show up too. Ravyn Lenae, Saba, and Phoelix all bring the heat and it adds more fire to an already fire track.
These three rappers are going to be here for a very long time so if you weren't familiar at the beginning of this article now you can act like you were, and look cool to you friends.