Is Internet Sensation "Walmart Yodeling Kid" Saving Country Music?
Mason Ramsey performance at Grand Ole Opry
Keeping up on the trends on the internet can be daunting, but it would be difficult to miss 11-year-old kid yodeler Mason Ramsey who has become something of yodeling sensation.
The affectionately named "Walmart Yodeling Kid" became an internet sensation when a passerby just so happened to videotape the boy singing Lovesick Blues by Hank Williams Sr. inside of a local Walmart.
The video then went viral and now has over 29 million views on youtube and eventually reached its way across all social media.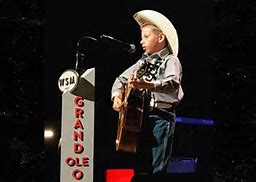 However, this isn't Mason Ramsey's first performance, he has been a local sensation in his hometown in Golconda, Illinois by performing publicly since he was 3 years old.
Now Mason Ramsey has performed in front of some of the biggest crowds of his life at Coachella Valley Music and Arts Festival in Indio, California and The Ellen Degeneres Show, as well as being able to live his dream by performing at The Grand Ole Opry in Nashville, Tennessee.
Recently, on Thursday, April 26, 2018, Mason Ramsey released his first original song Famous. Since the day it was published, the lyric video has acquired over 4 million views on YouTube and sparked many great reviews from the media as it being "catchy" and being "One of the only country songs I enjoy listening to", not only that but he has also signed a record deal with Atlantic Records and Nashville-based Big Loud Records, making his dream as a country music star come to life.
Since Ramsey's rise to fame, streaming of the original recording of Hank Williams Sr. Lovesick Blues has gone up by about 2,452% between March 26th to April 9th, according to Fader Magazine.
His recognition has shed new light on country music, what is thought to be a "dying" genre among the younger audience of music listeners.
The Ellen Show
Ramsey is also very different compared to other kid internet sensations that have been popping up like 9-year-old "Lil Tay" who is mainly popular for being disrespectful and acting out inappropriately on social media.
Mason Ramsey, however, seems to come from humble beginnings and has been working on his dream to becoming a famous country singer his whole life and that work has certainly paid off as his talent is now being recognized by millions across the globe.
Hopefully, the "Walmart Yodeling Kid" paves a new path for other young aspiring musicians to have the courage to step out and let their voices be heard.
About the Contributor
Georgia Greer, Reporter
My name is Georgia Greer. I am a Senior at Hillsboro High School in the Global Health and Science Academy and a reporter for the Hillsboro Globe.

I...