South African jazz musician and anti-apartheid activist Hugh Masekela dies at 78
Johannesburg – South Africans and music fans across the world are mourning the passing of the legendary jazz musician and anti-apartheid activist, Hugh Masekela, who died on Tuesday aged 78.
Masekela is perhaps most famously known for his trumpet performance of the seminal work, "Grazin' in the Grass." However, it is his antiapartheid works such as his tribute to Nelson Mandela that are mentioned in his interviews.
Bring Him Back Home (Nelson Mandel) Hugh Masekela
Beginning his training on piano at age six, Masekela moved to the brass instruments trumpet and flugelhorn. His style of jazz was a combination of  South African rhythms and contemporary jazz formats. As a young boy of 14, he was constantly in trouble. However, Masekela had wanted a trumpet, he said, after seeing the 1950 film Young Man With a Horn, and recalled that he told the priest: "If I can get a trumpet I won't bother anyone one any more."
Exiled from his country for 30 years, he was also a powerful singer and songwriter and an angry political voice, using his music and live performances to attack the apartheid regime that had banished him from his homeland. He survived the massacre of Sharpeville and left the embroiled, violent country of Botswana for New York, where he was helped by the musician and activist Harry Belafonte.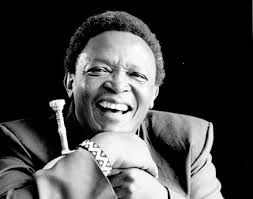 Masekela enrolled at the Manhattan School of Music and immersed himself in the city's jazz scene, learning from jazz greats Miles Davis, John Coltrane and Thelonius Monk.
Dizzy Gillespie and Louis Armstrong advised him to develop his distinctive style by utilizing his African roots and in 1963 he released his debut album, Trumpet African.
Masekela died from a prolonged battle with prostate cancer. He last performed in 2010 in Johannesburg, where he passed on Tuesday, January, 22, 2018