Looking back on the earthquake that struck Haiti 8 years demonstrates that much is yet to done
Hang on for a minute...we're trying to find some more stories you might like.
Roger Bilham, one of the first seismologists to visit Haiti after last month's earthquake, calls for UN enforcement of resistant construction in cities with a history of violent tremors.
After 240 years of inactivity, the Enriquillo Plantain Garden Fault ruptured on the 12the of January 2010 at 4:53 PM local time, resulting in a 7.0 magnitude earthquake in the vicinity of Port"au"Prince, Haiti.
The earthquake has been an unmitigated disaster for Haiti; with over 231,000 who died.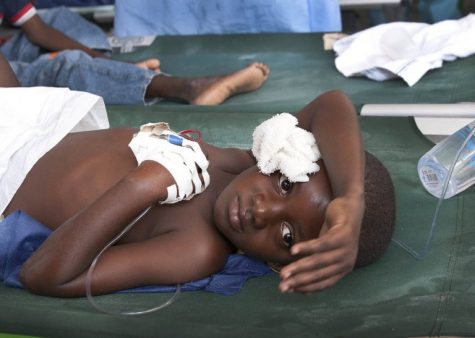 Members of Haitian community react to Trump's comments
Eight years later, on the anniversary of the day of the earthquake Haitians still struggle to pull themselves out of massive poverty and the citizens were even more demoralized by the recent comments by the United States President, Donald J. Trump who used an expletive to describe those who want to leave a country that has yet to remind significantly from the disaster.
Haitians, who make up 43% of the foreign borne population of Florida have taken exception to the United States President's remarks.  Farah Larrieux is a Haitian immigrant in Miami who represents a national alliance of people like her who have been granted protections against deportation after natural disasters in their nations.
"This is beyond politics. The guy has no respect for anyone. I am trying not to cry," Larrieux said. "I can't understand how someone goes from making a statement in Little Haiti saying 'I want to be the biggest champion of Haiti' to calling Haiti a 'shithole.' It makes me sick." She referred to a 2016 campaign stop in Miami's Haitian neighborhood.
Those there are Haitians who are angered by President Trumps remarks which are peculiarly timed not 24 hours before the 8th anniversary just perceive the President as an annoyance.
Djenane Gourgue, of the Haitian-American Chamber of Commerce of Florida, says she is not letting Trump's remarks affect her anymore, adding "his actions can probably hurt more.""We spend too much time commenting or watching or being pissed off at what Mr. Trump says. That's what he does well … ," Haitian-born Gourgue said. "Those words cannot affect me. … He's just being a bully."
The comments angered Illinois state Sen. Kwame Raoul, whose Haitian parents immigrated to the U.S. in the 1950s. "I don't think there's any apologizing out of this," the Chicago Democrat said of Trump. "He's demonstrated himself to be unfit, unknowledgeable about the history of this country and the history of contributions that immigrants, particularly Haitian immigrants, have made to this country."
Raoul, who was appointed to the Illinois Legislature to fill the vacancy left by Barack Obama's 2004 election to the U.S. Senate, added that it was a personal slight, too.His father worked as a doctor on Chicago's South Side for decades, often serving poor and vulnerable populations."It makes me embarrassed to have this guy as the president of my country," said Raoul, who's running in Illinois' March primary for state attorney general.