Beech High School slips past Hillsboro, 10-3 in a defensive throw down
Jacob Frazier finishes the 2017 season with 2282 yards, 30 TDs with an average of scoring every 7 times he touched the ball.
Hang on for a minute...we're trying to find some more stories you might like.
Region 6 AAA Hillsboro High School finished its football season after a tough loss to Beech High School Friday in the second round of the TSSAA football championships.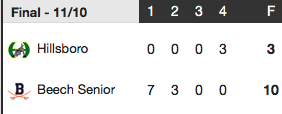 Eight Metro Nashville Public Schools entered the playoffs two weeks ago and two teams, Cane Ridge High School and Pearl Cohn High School, are advancing to the third round.
Strong defensive showings by both Hillsboro and Beech led to a low scoring game. And like the previous match-up in the regular season, Kaemon Dunlap's touchdown, a 3 yard rush, was the difference to put Beech on the road to the third round.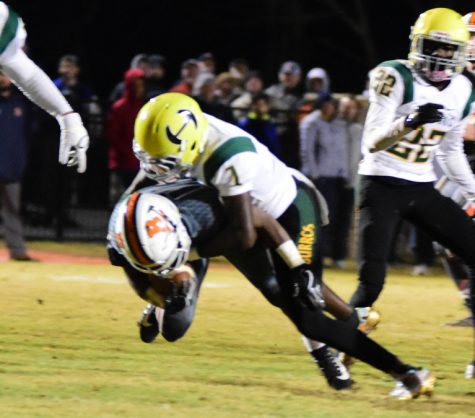 Javonte Dean-Wiggins played a significant role in holding Beech to a touchdown and a field goal. Wiggins finished the game with 11 tackles, a solo sack and a 5 tackles for a loss.
Hillsboro's defense was ready for Dunlap, a Mr. Football Semi-finalist who rushed for 119 yards, 1 touchdown and was held way below his average 12.9 per carry to 5.2 yards. The teams were evenly matched in first downs (BHS13 / HHS 10) , offensive yards (205 BHS / HHS 161) and yards per play (3.7/3.9).
The game's deciding factor was the 9 penalties Hillsboro suffered in a loss of 80 yards.
Hillsboro senior, Jacob Frazier was also held to much fewer yards than in previous games. Frazier rushed for 116 yard for 4.6 yards a carry – well under his season average of 9.9 yards a carry and averaging 195.3 yards a game.
Frazier finished the season with a whopping 26 rushing touchdowns, 2009 yards rushing, 3 touch downs receiving and  178 yards in receptions. Frazier had 2282 all purpose yards, 30 touchdowns and averaged 190.3 yards a game. He played all 12 games for 228 touches for the year.
Remarkably, Frazier averaged a touchdown every 7.6 times he touched the ball.
Other notable stats from the game:
Beech: Chaz Williamson-8.8 tackles; .5 sack; David Johnson 23 yard field goal
Hillsboro: J'xylan Evans 7.8 tackles; Adam Amroun 22 yard field goal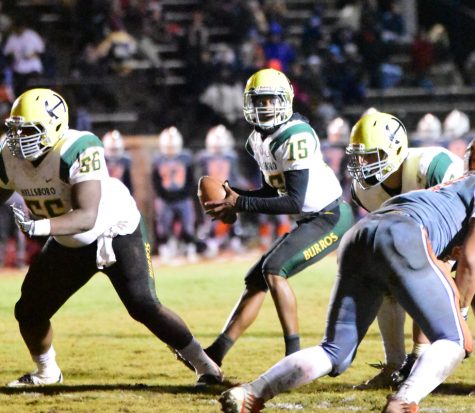 Other Scores and Stats
Pearl Cohn High School remains in the top 10 of its 3A Classification just ahead of Fairview who the Firebirds travel to face on Friday, November 17. East Nashville had a tough night in the 42 PCHS – 0 EHS loss. The Firebirds are undefeated at home. Parker 1TD/8 Carries/ 100 yards;  Marion Liggett – 2 TDs, 101 yards, 13 carries.
---
Cane Ridge had a solid win against Brentwood High School winning 28-13 and will advance to third round playoffs hosting Ravenwood High School. Standout Devon Starling rushed for 197 yards, 2 TDs, with 22 carries. Jared McCray did not score but had 8 receptions for 147 yards.
---
Maplewood faced Nolensville Friday, November 10 in the second round playoffs winning 26-21 over the Knights. The Pathers face Marshall County Friday, November 17 @ 7p. Bobo Hodges had 287 all purpose yards.