Hillsboro Cluster Night in the Burro Dome was a BLAST!
Hang on for a minute...we're trying to find some more stories you might like.
Friday, September 8, 2017, Hillsboro High School not only hosted Independence High School's football team for week 4 of TSSAA varsity football, but the Burros hosted eighth graders from each of Hillsboro High School's cluster feeder schools joined recognized Fall Friday Night Lights programs to participate in as the awesome future Burros they are soon to become. Mary Pierce, the Hillsboro Zone School Board Representative was the Guest of Honor who participated in the coin toss at the beginning of the game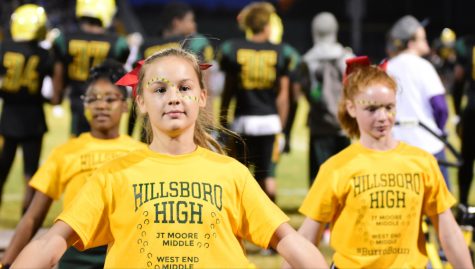 These eighth grade students from Hillsboro Cluster feeder schools middle prep schools, John Trotwood Moore and West End Middle all came in HHS provided spirit wear.
Many seniors on the field or in the stands with the band remember this tradition vividly and love being a part of it. Sisters in the band Callie and Madison Mabry were interviewed to ask what they like about the night. Senior Hillsboro band member, Callie Mabry, stated, "I want it to be fun for them because, for some kids, marching band is all they have, and I want it to be a place where they can be themselves and feel safe."
Introducing rising 9th graders early allows students to become aware of the culture of Hillsboro early. Madison Mabry an eighth grader from West End Middle Prep added, "Yes, this event makes me feel more comfortable and excited to be here my freshman year."
All students from both feeder schools were admitted to the game for free and many attended with their parents, and siblings.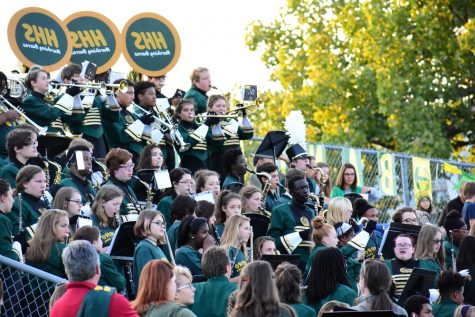 The Hillsboro band, cheerleaders and football teams hosted the eighth graders from each of the respective groups from fun activities for future Burros throughout the night.
Allison Beiderman, Hillsboro's band director took a moment during the Pizza Fiesta to explain why Cluster Night and "8th Grade Band Night" is so important. "It's very important for our program because 8th graders get the opportunity to get a feel for the our program.  Rising ninth graders get an opportunity to learn what to expect at a ballgame when joining the marching band and what we're really about here at Hillsboro." 
BAND GALLERY
About the Photographers
Georgia Greer, Reporter
My name is Georgia Greer. I am a Senior at Hillsboro High School in the Global Health and Science Academy and a reporter for the Hillsboro Globe.

I...
Angel Powell, Assistant Photo Editor
Hello, My name is Angelina Marie Powell but everyone calls me Angel! I'm a student at Hillsboro High School, and just recently started my own photography...