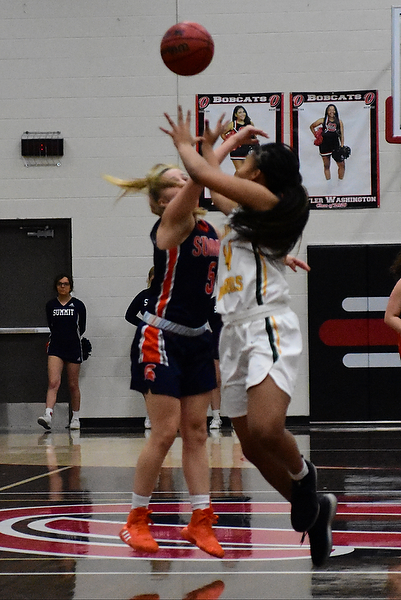 Susan Strasinger
Lady Burros use free throws to their advantage in win, 40 – 39, over Summit Lady Spartans.
Photo Gallery of Burros v Lady Spartans
Over and over, that is what Hillsboro head coach, Cherish Stringfield requires from every member of her very young team and it paid off Friday night when the win came down to just that – free throws.
With three seconds left in the game and too many lead changes to count, Hillsboro sophomore Derriona Salters hit the first of two free throws to give the Lady Burros the one point they needed to take the lead, winning 40 – 39. Salters free throw was backed up by two key free throws by Kamil Washburn to bring the Lady Burros to within 2 bringing the score to 35-37.
In their typical "never-give-up" defense, Kimora Lockett ties the game, 39-39 with the takeaway on an inbound ball leaving Lockett open and uncontested for an easy layup.
This free throw was Salters only point of the game, but it was the uncontested most important point.
Summit used the last three second to attempt to pull off the buzzer beater but the Lady Burros was able to deflect the shot and it was enough for the win.
Speaking of the win, head coach Cherish Stringfield said, "I'm very proud of the effort my girls showed throughout the game. They stay focused on the game plan for 32 minutes and executed down the stretch. I'm very proud of their fight, heart, and overall determination to secure the victory!"
The Lady Burros advance to Region 6 AAA WBB Semi-Finals to play Brentwood Lady Bruins on Monday, 3/2/20, 6:00 pm at Overton High School.
Notables:
Scoring: Cori Allen 11; Latisha Parris 8; Kamil Washburn 5; Trechelle Burch 4; Taniya Petway 4; Salters 1
Rebounds: Tazia Williamson 7; Cori Allen 5; Trechelle Burch 3; Kimora Lockett 3; Derriona Salters 3
Assists: Kimora Lockett 7; Cori Allen 2; Derrionna Salters 1; Kamil Washburn 1
Metro Nashville Public Schools Scores
Hillsboro 40  – Summit 39 Next game at 6:00, 3/2, at Overton
Cane Ridge 64 – Havenwood 44 Next game at 7:45, 3/2 at Overton
Maplewood 46 – Sycamore 36 Next game at 7:30, 3/2 at Maplewood
Page 80 – McGavock 20
Brentwood 68 – Hunters Lane 37
Cheathum County 68 – East Nashville 64
Westmoreland 58 – Nashville MLK 32
White House Heritage 64  – Republic 31