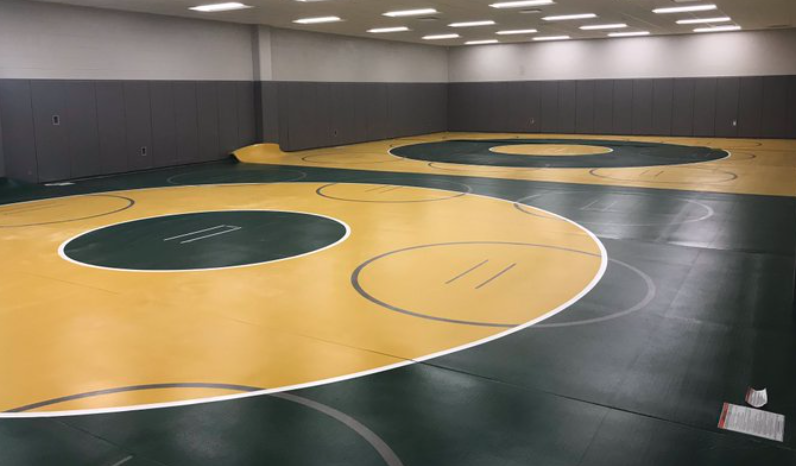 The Hillsboro wrestlers have returned for the 2019-2020 season and are ready for a clean sweep!
The Hillsboro Burros open their wrestling season Saturday at Nolensville High School
One of the most commonly used metaphors in high school sports is the reference to the preparation of a game or match as "the grind." This depiction usually references more than a score and includes grueling practices and lengthy road trips, to the inevitable injuries and heartbreaking losses.
After years of holding wrestling matches in a makeshift portable, Hillsboro High School will open its 2019-202 in a brand new wrestling space. Mikeal Trump, the Burros head wrestling coach is excited to start the season in the new room. Coach Trump has high expectations for this year's team as they have several returning wrestlers who either went to the TSSAA State Championship last year or just barely missed the cut.
Every sport has challenges, yet, few high school sports deal with the mental and physical strain as much as the sport of wrestling. Once a sport reserved for only male athletes, Hillsboro High School's wrestling program will also be featuring six females. Most sports push athletes to the point of pure exhaustion, but no other high school sport requires its participants to be at or under a certain weight in order to compete. This applies to male and female wrestlers. Empty stomachs, sore muscles and bruised egos are commonplace in the sport.
"Making weight" requires an athlete to consistently maintain his or her weight at or under a specific goal. A healthy diet of regular, low calorie meals and work out multiple times a day is the best way to maintain one's weight. Weight classes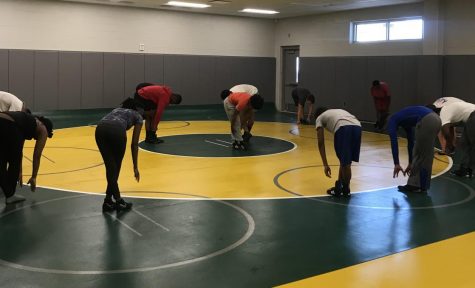 The 2019-2020 wrestling season is about to begin and the Hillsboro High school wrestlers are excited and ready to go.
They have been conditioning hard and they are already to putting in the hard work.  The Globe had a chance to speak with Head Coach Trump recently about the upcoming season.
Hillsboro Globe (HG): How do you feel about the way the team is looking,  knowing the season is around the corner?
Mikel Trump (MT): I'm feeling really positive about how the team is looking. We're young and some has little to no experience.  However,  by the end of the yea,r we're going to shock some people.
HG: What do you expect from the wrestlers this season?
MT: I expect them to give me their best and to work hard. I expect them to place in tournaments. We should have some kids go to state.
HG: What is a goal for this season?
MT: Our goal is to make the region tournament as a team and have more than a few athletes go to state to represent our school.
The official beginning of the season opened on November 1, 2019 with practices. The Burros's first match of the season is a pre-season tournament November 23rd at Nolensville High School beginning at 9:00 AM.
The first home match in the new space is December 3, 2019 at 5: pm.
Hillsboro High School
2019-2020 WRESTLING SCHEDULE
Date

Day

Opponent

Notes

Result

Nov. 23, 2019

Sat

at Nolensville Pre-Season Tournament

Nolensville ·

9:00 AM

Dec. 3, 2019

Tue

6:00 PM

Dec. 3, 2019

Tue

Tri-Meet vs Page, Northeast, & McGavock

Hillsboro High School · Page, Northeast, & McGavock

5:00 PM

Dec. 3, 2019

Tue

Boys and Girls

5:00 PM

Dec. 5, 2019

Thu

Tri-Meet vs Franklin, Sycamore, & Lebanon

Hillsboro High School ·

5:00 PM

Dec. 5, 2019

Thu

@Hillsboro

4:30 PM

Dec. 7, 2019

Sat

(N) West Creek Tournament

West Creek ·

9:00 AM

Dec. 10, 2019

Tue

at Tri-Summit & Brentwood

Summit High School ·

5:00 PM

Dec. 12, 2019

Thu

at Tri-Overton & Hunters Lane *

John Overton High School ·

5:00 PM

Jan. 9, 2020

Thu

3:45 PM

Jan. 9, 2020

Thu

at Quad-Ensworth, McGavock, & Hillwood

Ensworth ·

5:00 PM

Jan. 14, 2020

Tue

@Antioch

5:00 PM

Jan. 16, 2020

Thu

Tri-Brentwood Academy & GCA

Hillsboro High School ·

5:00 PM

Jan. 23, 2020

Thu

Nolensville

5:00 PM

Jan. 28, 2020

Tue

+Spring Hill, DCA

4:30 PM

Feb. 1, 2020

Sat

(N) JV State & Girls Region Tournament

Nolensville ·

9:00 AM

Feb. 4, 2020

Tue

@Hillsboro

5:00 PM