MNPS student password policy changes begin August 1, 2019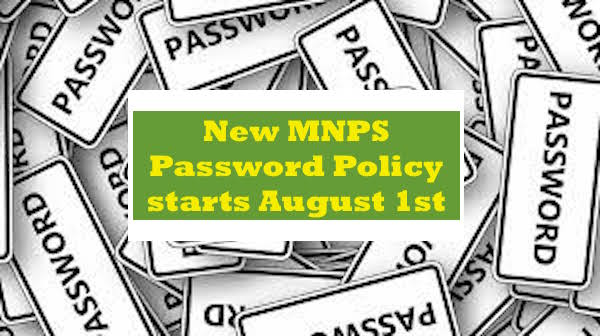 Advertisement
Hang on for a minute...we're trying to find some more stories you might like.
MNPS Department of Technology Information Service announced August 1, 2019 that how a student resets his or her password will change in order to better protect the privacy of the students. The modified default password structure for all student accounts in MNPS will be different for returning high school and middle school students.
This change in policy applies to student access to school-related computers and will affect the student's first logon.
The new format and policy are designed to reduce potential account hacking and will better protect the privacy of individuals. Metro Nashville Public Schools values the privacy of every student including the work product produced on a school computer.

This new password policy will require that students in middle and high school grades to change their password on the first attempt to use a school computer or wifi.
Elementary grade students, while not forced to change their password as part of a reset, are encouraged to use a password they choose that they can easily remember.
This will begin to instill in them safe computing practices and have them ready to follow these practices as they are required to manage their accounts in later grades.
A common frustration for students using school technology is the requirement to reset passwords multiple times during a school year. The new 180-day new framework will align their password password expiration date more in line with the typical school year.
Teachers have been encouraged to set aside time to allow students the opportunity to set their new password as part of the first few days of class.
It is also recommended to have students reset their passwords on their return from winter break. This will reset the 180- day password expiration counter to cover the 2nd semester timeframe. This will help to reduce the impact of passwords expiring during class, at odd times after students return to classes in January.
We also recommend that students, and staff alike, sign up through the self-service password reset portal. In the event a user forgets their password, this service allows the user to utilize the 'forgot password' link on the Office 365 login page and manually reset their password on their own. This recovery is available through any PC, smartphone or tablet that has Internet access.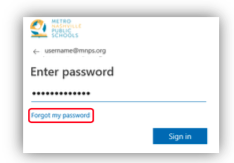 For more information about setting up this feature, see the overview document here: Service Pro Password Reset
To reset a forgotten password, access the Office 365 portal at https://login.microsoftonline.com.
Enter your mnps username with the appropriate '@' suffix ([email protected] for students)
Students will then select "NEXT' , click "forgot password link "at the password entry screen.
Follow the remaining steps, as presented through the portal, to reset the password.